When Talk IS Action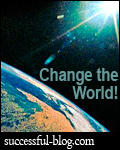 Three years ago, I was not about joining. My experience had been that groups pushed aside individuals who had different-sized ideas. Then I became part of this culture — individuals who could work together and respect each other's individuality.
The group projects that work that way are riicher, deeper, and filled with more ideas. Blog Action Day is one of those.
This year on October 15th, Blog Action is inviting us to change our conversation to one issue . . .

Blog Action Day 2008 Poverty from Blog Action Day on Vimeo.
Thousands of voices, talking with their own words about the same thing. That's conversation as action.
We can change the world — just like that.
–ME "Liz" Strauss
Work with Liz!!