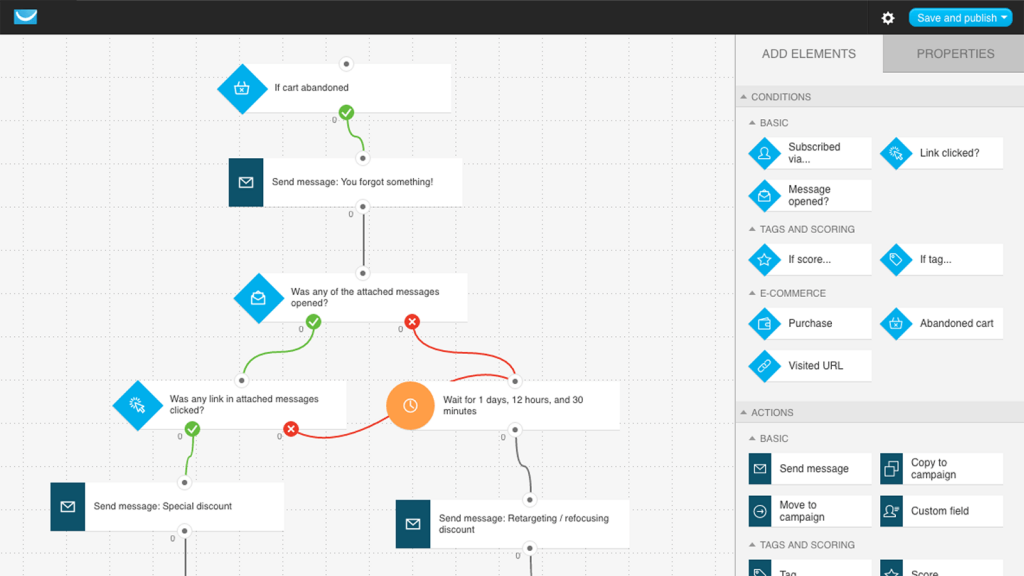 Being a marketer in the age of the internet makes me one of the luckiest people in the world. I get to reach audiences across the world from right at home, and I can do it with a limited budget, based on the merits of my brand and my creativity. I love my job… usually.
I will admit that there are times when I get frustrated. Sometimes I feel so annoyed with the tedious, never ending tasks of promotion that I feel like selling my computer, moving to the Appalachian Mountains and starting a llama farm, never to see another piece of analytics data again.
Given my endless search for ways to fob off those pesky to-do tasks, and my inability to do so on my team without them wishing me dead, I am slightly obsessed with marketing tools. I have been signing up for free trials in the search for the perfect one, and so far I have found a number that I like.
This is my latest attempt at seeking marketing platform perfection, and I am happy with what I have so far found.
What Is GetResponse?
GetResponse is, at the heart of it, an email marketing platform. You use their email creator to apply templated (of which there are many), and launch campaigns that are targeted to segmented email lists you can upload from your hard drive backups. Pretty straightforward, right?
Actually, no. I went into signing up for GetResponse thinking I would be using a MailChimp clone, like so many others on the web these days. What I ended up with was a unique, helpful marketing tool that covers a number of tasks that I normally hate doing, and makes them easy. And emails are only a part of it.
An Expansive Features List
Email Creator and Templates – There are a lot of templates available, as well as their email creator for your own designs. What I love most about these – other than how simple they are – is that they are responsive. So no matter where the customer is viewing them, they will look the way I intended.
Marketing Automation – In order to create automated tasks, you make a workflow chart using drag and drop. Each connects to different commands, triggered by the behavior of the customer. These automated tasks are a quick way to improve conversions, without having to manually draft messages.
Landing Pages – A solid landing page is a great tool to turn those leads into sales. But making them can be time consuming, and using services that make fast ones cost a lot of cash. Having such a feature available to users built in with the price of their other tools is a great move by GetResponse.
Form Generator – Want to get some feedback on your site or products? You need a form, and they happen to have a generator for you to use. You select the type (scroll, popup, ect), and fill in the different areas. Then they do the rest, hosting the form on your site where it will hopefully catch some interest.
A/B Testing – You have to be regularly A/B testing your materials if you want to make sure you are getting the best possible results. I love that this dashboard has a tester right there for you to use, alongside past campaigns that might offer clues for future success.
Webinars – You have so much to teach and give. Why not host a webinar? You can get this feature with the second tier and above account, and it is worth it.
Auto Responder – Whether it is a message stating that support will be in touch, or a happy birthday message to your customers, you can set up an auto response quickly.
Multi-Source List Import – Build your lists by importing from your hard drive, or pulling them from services like Gmail and MSN. Segment them quickly and easily.
Analytics – Get solid data on your performance with their analytics charts and insights. Make smarter decisions moving forward by seeing the real time successes and failures of your campaigns.
My Experience With GetResponse
I signed up for their second tier plan, for $49 per month. My plan was just to try it for a month and consider the cost an investment that I may possibly lose. I am happy to say that didn't happen, as I have been loving GetResponse all month.
The email creation is surprisingly easy to use. I am not a designer, which anyone who has seen my attempt at building even simple sites can attest to. Emails are no different, and I have had trouble getting templates to work for me as I customize them on other platforms. Here, I had no trouble at all. Knowing that the emails were responsive also really helped, as I knew they would look good no matter the device.
I had a bit of a tough time figuring out the automation feature at first. But with some tinkering I managed to work the drag and drop automation lines, and created some cool little tasks that I could run in the background. I mostly focused on ecommerce messages, such as if they put things in their cart but didn't go through with a purchase. They would get a message reminding them of the item.
I also created several landing pages, and A/B tested them to see which led to a greater subscription rate on our newsletter (the biggest source of marketing success for our campaign to date has been through email outreach).
My Rating: Five Stars
I really like GetResponse so far. I haven't had time yet to try all of their features; webinars has had to wait, but I am eager to give it a shot. Everything else has been awesome, and I couldn't be happier with how their features have improved the time I have spent on marketing tasks.
All in all, this is a five star product.