By Teddy Hunt
The year was 1994. Katie Couric, Bryant Gumbel, and their guest sat around a quaint coffee table between NBC's "Today" segments and pondered the pronunciation of the "@" symbol. "That little mark," he said. "With the 'a' and then the ring around it. Couric said she thought it was 'about.'" He went on to ask, "What is the Internet, anyway? Do you write to it, like mail?"
Just two decades ago, this was the reality, even among some of the most successful, high-profile people in our society. Now, the Internet and other forms of technology have become ingrained in our culture, and for good reason. Businesses and the people who run them depend on technology for success in many ways.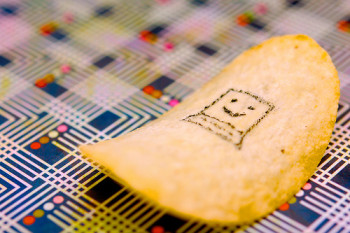 Improving Efficiency
In today's economy, a business has to squeeze out every ounce of productivity to remain competitive and successful, and technology provides us with many avenues to accomplish just that.
Efficiency serves as technology's over-arching theme; it encompasses everything we've come to love and expect of the wonderful little gadgets we depend on. We can retrieve and share data in an instant, swipe a magical piece of plastic in exchange for goods and services, and tasks that we once performed by hand are now being streamlined by technology, void of human error.
Expanding Knowledge
Have you ever stopped to consider the sheer volume of information available to you on the Internet? Why not use that to your advantage? Except for encyclopedia salesmen, just about every other business person is reaping the benefits of unlimited amounts of knowledge with just the click of a button.
Internet searching brings you everything from interview dos and don'ts, to market trends, to tips on how to start your first business, all without ever having to leave your home. Even if you do leave your home, that same information is available to you on a smartphone or tablet. Technology is constantly reshaping the nature of knowledge, giving us the potential to be smarter and more efficient than ever before.
Instantaneous Communication
We've come a long way since the first mobile phone call in 1973. Communication on the go has become a necessity in the business world. Email and smartphones have changed the way we communicate with our peers and our customers by providing us with a variety of instantaneous connections. We can run our offices from the road if we have to, or instantly respond to customer inquiries after hours. No matter how personal you believe old-fashioned snail mail to be, the reality is that technology has taken over communication. Putting pen to paper puts you a step behind the competition. 
Promoting Open Mindedness 
As technology evolves, a successful person must learn to adapt. New developments keep us on our toes because we understand the importance of being up to speed when it comes to new technologies that could better our businesses.
This translates very well to being adaptive in general. All too often, we dig our heels in and resist change because our way of doing things works. Eventually, we must accept that it's possible for something else to come along that works better. As technology grows, we should be willing to follow suit. 
Shrinking the World
Consider this scenario: A journalist on location in an unknown Middle Eastern village witnesses the beginnings of what could turn out to be a breaking news story. She pulls out her trusty 4G smartphone, snaps a few high resolution photos, and uses the phone to type a brief news blurb about what just took place. She can instantly upload all of that information to her news site. 
Technology eliminates boundaries. We can use it to manipulate the business world and in our professions in ways we couldn't before. It brings everything to our fingertips so that we may, in turn, deliver it to someone else. 
Technology continues to redefine our culture as it grows. We should all be willing to use it to learn and become better at what we do because, without it, we would truly be in the dark.
Author's Bio: Teddy Hunt is a freelance content writer with a focus on technology. When not behind a computer, Teddy spends the majority of his free time outdoors and resides in Tampa, Florida.
Photo Credit: JD Hancock via Compfight cc