Have you ever had an amazing experience with a company and taken right to social media to express your feelings? What about a not so great experience? If you have, what were your expectations of the people behind the brand's social media accounts?
With technology platforms on the rise, it is important to humanize companies and brand messages. It is necessary to make companies personable to foster good relations and trust, and even to drive engagement and sales. Companies also need to communicate well online because it helps people understand what they do and what they stand for, as well as stave off miscommunication and misunderstandings.
Nielson's report estimates that 33% of users prefer to contact brands using social media as opposed to using the phone. With all of the stressors of online customer service, it is important to improve service by humanizing and communicating the brand message online.
Consumers are more likely to identify with a brand that has values in alignment with their own, and this connection will make a customer more likely to engage with the brand on an ongoing basis.
So, how can you improve online customer service by humanizing and communicating your brand message?
Lose Anonymity
A great way to help customers see a company as a personable entity, and less as a corporate business, is by personifying it and giving it a face. It also helps to garner publicity by using a company's personality.
It all starts with the name. Find a domain name that represents your brand and creates niche associations.
Showing personality that stands for the brand message helps to authenticate a company and increase perceived transparency, leading to customer trust and improved service. Having an authentic brand is also one of the strongest ranking factors, according to UR Digital, so being authentic will likely improve your organic search visibility as well!
Businesses can emulate personality and create brand personas by doing some of the following:
Feature real-life employees or customers on websites or advertisements
Post photos of the human elements of the business, from candid photos on the job to snapshots from employee functions
Publish articles and other literature from the company's employees on a blog or by guest blogging
Host and/or give talks sponsored by the company that pertain to the company's area of expertise
Add a phone support! Even small businesses can now afford phone support with solutions like Cloud PBX.
Stay Active on Social Media Accounts
Upkeep of social media accounts is extremely important in maintaining a presence online, with 63% of millennials staying updated on companies through social networks (Leaderswest Digital Marketing Journal study).
Keeping up on accounts not only establishes the company's existence and innovation, but also helps to stand as evidence of what the company does, promotes, and is involved in. Up-to-date accounts show the public that the company itself is online and paying attention, and shows the consumer the company is more likely to be responsive to any comments or concerns that they may have.
Some ways that a company can work on customer service via social media accounts include:
Being responsive and have a quick turnaround time for comments, questions, and complaints
Paying attention to what is being said about the company, and other companies in the industry
Being interactive through new postings, trend followings, and consumer engagement
Partaking in active listening, admitting mistakes and sharing apologies, and showing implementation of customer suggestions
"Over" Communicate
To improve your customer communication, it is a good idea to do what may seem to be over communication. Take time to ask yourself some of the following: Is your brand message clearly stated? Are there more than adequate ways for customers to contact you? Is your message expressed in terms that are easily understood?
Businesses can improve on communication by taking some of these things into account:
Blatantly stated brand messages, or easily accessible mission and value statements
Easy to understand language and tone (in fact, a study from Carnegie Melon showed that most presidential candidates speak at a 6th-8th-grade education level)
Regular check-ins with customers
Phone, chat, email, and other communication support availability and offerings at all times
Research Your Current Brand's Sentiment
What do people think of you and your brand? Which associations does it currently trigger?
Text Optimizer helps you find answers to all those questions by searching for your brand name in Google and analyzing search snippets that show up for that search.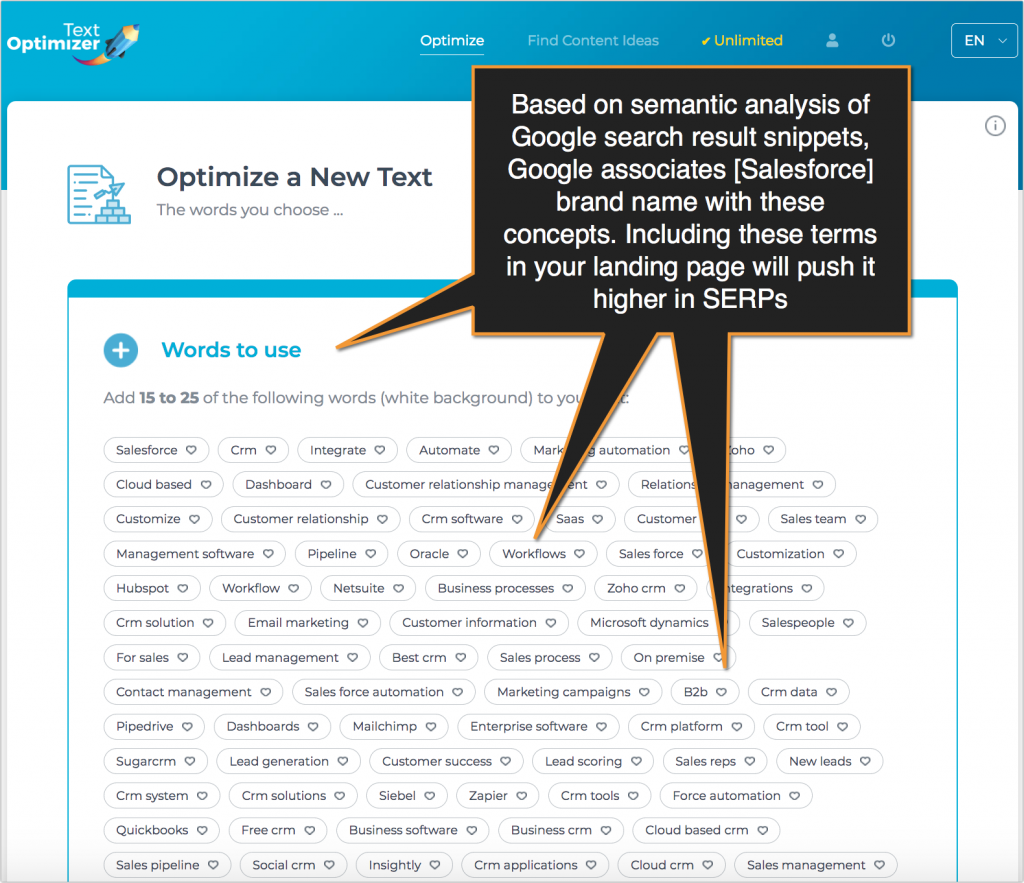 Here's how semantic search works if you are curious!
Cater to the Audience
Showing interest in the audience is an important part of good communication with consumers because it often cultivates further engagement.
By incorporating and inviting feedback from customers, it not only allows for businesses to assess their target audience, but it also lets the audience feel included and important. In addition, adding content that the audience is interested in helps the audience see the company as a more human entity with a shared interest, something that will encourage the audience to take a liking to the company.
Companies can cater to the audience in many ways, such as:
Posting things for enjoyment, not simply promotion of the brand
Using consumer generated or created content
Hosting audience involvement initiatives such as social media campaign competitions or giveaways
Sharing, liking, or re-tweeting pertinent customer mentions or tags
Cultivating Communication and Humanization Habits
Taking the first steps towards brand humanization and communication is no doubt important, but it is also imperative to continue the routine of good communication with customers.
Maintaining open lines of communication with consumers is a great way to constantly improve upon the service being offered, it enables businesses to hear how customers are feeling and adjust practices accordingly.
By taking customer thoughts and feelings into consideration, customers and businesses can foster positive and long-term relationships, which culminate into giving customers the service they want.