SOBCon2010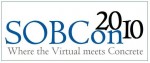 Stunned and staring at my screen. Fingers resting on my keyboard. I walk around to find out what I'm thinking …
Last Friday morning at SOBCon2010, we looked at our hands and considered all the ways we use them to communicate — all the information and feelings that we pass through them.
Today my voice is gone and my two pairs of glasses still qualify as 1. lost and 2. broken. My head and heart are filled with meaning. Yet my fingers aren't feeling so eloquent.
Sometimes words are inadequate. I trust you'll read the spaces between them this time.
Wish more than anything I could reach through my computer to shake a few more hands, to underscore an idea, to give one more hug or handshake while a taxi was waiting.
How to Raise a Barn in a Weekend
Raising a barn can't be done by one person. In fact, it helps to start with a truly committed and generous partner … one who will sing if he needs to … even when an executive from a leading business website and verified platinum-selling rockstar are in the room.
At SOBCon2010, we offered an invitation, an excuse, a reminder to "raise a barn" of ideas, strategies and tactics and a 150 incredible people laid aside their self-consciousness and invested the time of their life to be there — for some it was easier, for some not so much so. It takes practice to be fear-less.
People came together in unexpected combinations.
Barn raising is a noble investment.
If you're wondering how you might raise a barn, it's been my experience that raising a barn is easier if you …
Show up in spades. Be there. Gather everything you might be, everything you might offer, and all you believe.
No barn was ever raised by, for, or with someone who didn't invest, want, and already see one.
Bring a simple plan and a people-centered process. Support and encourage expression, participation, and creativity. Don't five undue attention to nonparticipants. Some folks need to find their own way in … Instead be attractive.

Getting started is the hardest part. Make it the easiest.

Fill the quest with quality. Have the best leaders, the best tools, the best food, the best places to think, talk, work and relax.

Live the vision. Don't just talk about it.

Know, love, and trust the people who are investing. Welcome everyone who came to contribute. Let them know they are valued. Leave room in the plan for positive mutations. Let people be smarter, than you are.

Realize and recognize that every act of generosity goes both ways.

and when the barn is almost finished …

Give back, give forward. Take action that keeps the momentum. Work in full gratitude by, for, and with everyone who participated to celebrate what's been raised. Find ways to help them pass on the experience and insights they gained to those who could use them.

Imprint every learning by inviting every learner to be a hero and a teacher.
Thank you to every sponsor for looking acting and investing right with us. Thank you to the presenters, who delivered the content as members of the audience. Thank you to every person who helped us build more than we imagined. It will take a while to unpack the complete value of your contribution.
Without your fearless participation, we might be remembering a meeting.
Instead we built meaning. We saw, heard, and understood each other.
And
Damn it's fun to take your brain out to play in a roomful of smart people!!
No wonder I keep staring at my screen.
You have changed my life.
Can't wait to do it again!
–ME "Liz" Strauss
Work with Liz on your business!!