By Guest Columnist Martin Stellar
The young monk was sweating profusely. He was hurting and out of breath. He was spent.
In front of him stood a barrel full of kidney beans.
Beyond that was the cliff, and in the distance the rice paddies.
His master sat a little ways away to his side, meditating in the shade of a bamboo cove.
He could hear the shouts of "Katsu!" drift up across the rice fields. And the cracking sounds too, each time one of the older and more advanced monks broke bamboo in two with their fists or their shins.
He looked at the beans and he loathed them.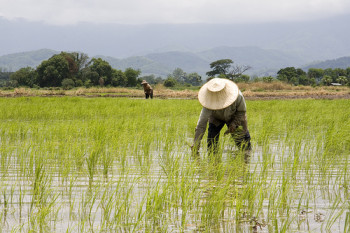 For the last three hours, he'd been jabbing his outstretched hands into them, as hard and as fast as he could.
A bucket full, 50 liters of dry kidney beans.
In. Out. Down. Up. Left. Right. Left. Right.
At first it's not so bad: The beans are smooth and slide to make space.
But after ten minutes it starts to hurt.
After 30 minutes, you want to stop.
After 45 minutes, you want to cry.
After an hour, your hand feels like a building fell on it, and everything from your fingertips to your neck feels like Dr. Frankenstein just stitched it together last night.
He looked at the beans, then at the fields. He looked at his master, placidly meditating, his eyes closed.
He hurt. He wanted to cry, to topple the barrel and throw it off the cliff. In fact, he wanted to go home, or jump off the cliff, or perhaps throw his master off instead. He wanted to quit, any which way he could.
"Katsu!" it sounded across the valley. "Crack!"

He looked at the beans again, and breathed slow deep breaths. He still hurt, but not as much, not if he concentrated on his breath.
He raised his hand, paused, and jammed his fingers into the beans again. Left. Right. Left. Right.
His master opened an eye, and quietly smiled to himself.
This kiddo was going to turn out very strong indeed.
I always wondered how people manage to get so strong that they can break stone or wood with their hands. You see the videos of Shao-lin monks, and you wonder if that stuff is real.
Kick a thin tree in two with your shin? How…
Turns out, each time they ram their hand into the beans, or practice-kick against a sapling, they create micro-fractures, hairline splits, in the bone.
When that heals, just like any scar tissue, the new bone material is stronger than the actual bone.
Do that for a decade, and your bones do indeed become as hard as rock. It's simple biology.
Now, I don't expect you're on the path to becoming a Kung-fu master.
But if you're in business in any way – if you're in life, actually – you are only ever going to get results, of any kind, if you can muster the guts just like the monk in my story did.
Saying 'a quitter never wins' is a nice quip, but it's not very useful.
It's not about quitting – you can't quit. There's no quitting life.
You can quit one activity, get rid of one burden, or avoid one challenge – but the moment you turn your back, life will present you with exactly the same challenge you avoided, just in a different way.
Life's a bitch in that sense. Or, you could say life is a blessing, in that it never fails to show you what you need to learn or overcome next.
"Does this hurt, is it difficult, does it make you want to scream? Ah… That means, my friend, that you can push through, find the key, and make that difficult thing a stepping stone, something you can use to grow and get stronger."
And then life simply asks you to choose: Slam the beans again – or walk away?
I've never trained for Kung-fu. My bones aren't rock-hard. My best punch involves fruit, wine and liquor.
But I've had my own path, training, setbacks and hard knocks.
And over the years, I've learned that 'giving up' isn't an issue.
It's not about quitting or giving up: it's to do with the battles you choose.
And sometimes, it's good practice to step back – not to quit, but to say "I'm not fighting this battle today – I'm going to train first and get stronger first. THEN I'll show you".
Just like that little monk, who realised that the real battle wasn't against the beans, but against his own mind.
You have more strength in you than you can possibly imagine.

The only reason you're not living your strength fully, bringing it all out onto the playing field, is that it takes time and persistence to get strong.
Breathe. Relax. Life is very, VERY playful – naughty and a bit mean too, sometimes. But life is always there to help you, to show you ways to grow and get stronger.
Life and the world aren't out to hurt you – it's only there to teach you.
Punch the beans.
If it starts to hurt too much: put ice on it.
There's no shame in losing a battle so you can regroup and recover your strength.
The beans will be there waiting for you tomorrow.
If you keep it up long enough, you'll be stronger than beans, bamboo, wood, stone.
If you allow life to teach you, you'll become stronger than life.
Now if you'll excuse me, I've got some of my own bean-punching to do.
Author's Bio: Martin Stellar is an email marketing specialist with a knack for building relationships. Former monk, former copywriter, once-upon-a-tailor; these days he's on a mission to inspire and motivate. Each day he writes articles like these and sends them to his private list – and if you'd also like to receive them, please register at http://martinstellar.com.