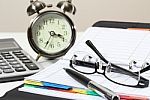 Education is at the heart of personal betterment in the pursuit of a richer life. But does going back to school make sense as an investment in your career and your business?
For many business owners and employees alike, it just might.
Why Business Owners Go Back to School
An article in Entrepreneur detailed a few of the many reasons business owners go back to school, other than intellectual betterment.
The reasons are as diverse as the businesses they own.
Research shows that more than three quarters of small business owners are older than 45. Since they were in school, the business world has changed dramatically.
Business owners may feel that they've fallen behind or missed out on the skills it takes to survive in the digital age – even if their business has nothing to do with computers, software or information.
A baker, a plumber or a roofer could decide that:
A course in digital marketing could help them expand their business and learn skills like search-engine optimization and back-end analytics.
A course in social media may enable them to reach out to new customers on networks such as Facebook and Twitter.
A course in graphic design could help them gain control over their website's layout.
A course in personal finance may help them plan for retirement.
Why Employees Get Educated
For people who collect paychecks, the reasons for advancing their education may be directly related to a desire to advance their career and their income.
Findings from the Bureau of Labor Statistics show irrefutable evidence that there is a direct and dramatic correlation between education and income.
There is also an undeniable connection between education and job security. Highly educated people command far higher salaries and are far less likely to be unemployed during times of economic turmoil.
But it's not just money.
Research from Six Sigma Aveta Business Institute shows that education leads to career advancement across the board, as well. The higher the worker's education, the more likely he or she is to get a promotion and achieve a position of authority.
The article "Is it Time to go Back to School?" outlines even more reasons to crack the books, such as networking, prepping for a new career and sharpening up old skills.
Tips for Going Back to School
School is hard when you've got nothing else going on.
For full-time workers and business owners, it can seem impossible – but it's not. Remember that you don't have to pursue a degree. Learning valuable new skills can be achieved with a single course.
Consider online education.
Once a marginal niche that was frowned upon by the academic community, distance learning is now mainstream.
Offered by most colleges and universities, online education – or hybrid courses, which require some on-campus instruction – can be tailored to your schedule, it can provide more individualized attention and it can be significantly cheaper.
Education is worth pursuing for anyone who may benefit from the professional boost it can give.
It is not easy to work and go to school at the same time, but education can boost a career and a business.
Photo credit: Image courtesy of Pong at FreeDigitalPhotos.net
About the Author: Andrew Lisa is a freelance business writer. He covers small-business planning and career advancement.