As a small business owner, I'm always hustling to make the most of limited resources. The techniques presented in Ian Greenleigh's new book, The Social Media Side Door (McGraw Hill, October 2013), are designed to help us take advantage of the seismic shifts that have happened in recent years regarding access and influence.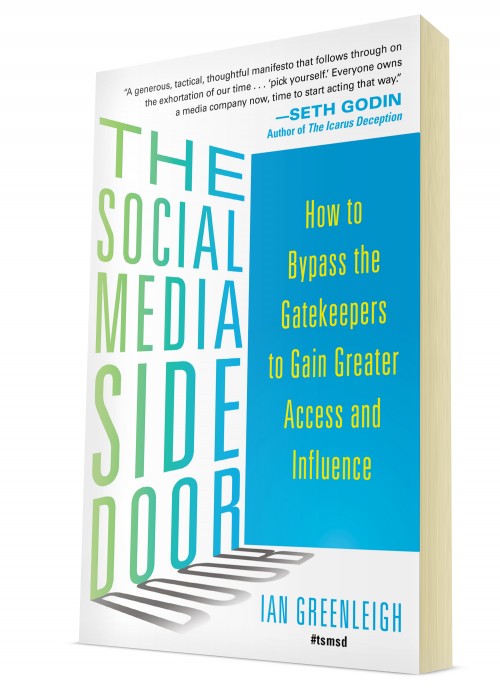 Enjoy this Q&A with Ian, as he offers some great insights from the book.
1. What is the social media side door?
We're living through an extraordinary time. Social media is decimating the human and technological gatekeepers that have historically prevented non-elites from accessing and influencing powerful people and institutions. The barriers are crumbling all around us, and so many people haven't even noticed, or they're simply not yet equipped to take advantage of these massive opportunities, what I call "social media side doors."
2. How did you discover it?
I really struggled to get a decent job during the recession. I had just graduated with a degree in political science, even though it was a field I didn't want to pursue. I was in sales, and I wasn't very good at it. It was pretty bleak. None of the things our society teaches about getting great jobs were working. I thought I was bright, hardworking and creative, but I couldn't find a way to convey that to the professional gatekeepers in recruiting.
I needed to try something radically different, so I scraped the bottom of my dwindling savings account to attempt something I had seen on a blog. I took out a Facebook ad, pointed it at a special "hire me" page on my blog, pointed the ad at decision-makers at the top companies in Austin, and saw the clicks roll in. Within a few weeks, I had a nice array of options for my next career step.
It wasn't an anomaly. Once I started looking for them, I realized that social media side doors existed almost everywhere barriers seem to exist. I also realized that no one had written a guidebook to help people spot and take advantage of these new opportunities, so I decided to write it myself.
3. How can people find and open their own side doors in social media?
Realize that side doors often open gradually. For example, every time you leave a comment on a CEO's blog, or tweet a piece of intelligent feedback to an influencer, you're opening that side door up an inch or two more.
Think about the goals of the person whom you're trying to reach, and reflect on how you can help them get there faster. You can do things like introduce them to other influential people via Twitter, interview them on your blog about a project they're promoting, or help them find information they're after.
Relationships are still the basis for almost all of the value created in social media. Social media makes it really easy to answer the question, "what has this person done for me lately?" As such, you'll hear "yes" far more often when you've provided value before an ask, or in conjunction with it.
4. Why should we try to open these side doors sooner rather than later?
Imagine it's the dawn of the 20th century, and you're a salesperson, marketer or jobseeker. Telephones are expensive and rare, but somehow you've acquired one for free. There are no gatekeepers to screen the calls of the rich and powerful, and you can reach any of these fellow telephone owners simply by asking a switchboard operator to put you in touch. If you wait too long to take advantage of this situation, your competition will beat you to the punch, your approach will no longer be unique, and access now seems like more of a liability than an opportunity to those being accessed.
We're not quite there yet with social media. We see rising adoption among powerful people, but the human and technological gatekeepers haven't caught up yet. And innovation happens so rapidly, that the arrival of each new social network brings with it a new set of access and influence opportunities.
Author's Bio: Ian Greenleigh is a social media and content strategist, and author of The Social Media Side Door: How to Bypass the Gatekeepers to Gain Greater Access and Influence. He helps companies turn data, ideas, and relationships into true thought leadership. His words and ideas have been featured in Harvard Business Review, Ad Age, Adweek, Digiday, Ragan, Seth Godin's The Domino Project, and elsewhere. He writes and speaks on a wide range of topics, including changing consumer-brand relationships, the convergence of personal identities, and the radically shifting landscapes of access and influence. You can connect with Ian on Twitter: @be3d