Moving into a new home is a major undertaking.
Once the boxes are cleared and the new neighbors start bringing over key lime pie, you invariably have to start calling contractors of various stripes.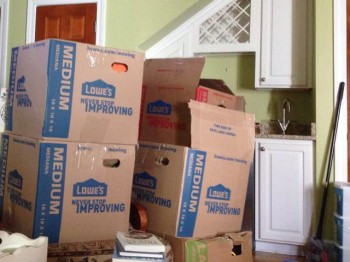 Lawn guy, handyman to fix the screen door handle, pest control, air conditioning repair, you get the picture. Making all of these calls over a compressed period of time gave me a true education in "who gets the business."
You know who gets the business?
The person who answers the phone. If everyone fails that test, then it's the one who returns the call the fastest.
Woody Allen has been often quoted as saying "showing up is 80 percent of life."
When asked later about the quote by William Safire in the New York Times, he elaborated:
"My observation was that once a person actually completed a play or a novel, he was well on his way to getting it produced or published, as opposed to a vast majority of people who tell me their ambition is to write, but who strike out on the very first level and indeed never write the play or book. In the midst of the conversation, as I'm now trying to recall, I did say that 80 percent of success is showing up."
Do you have an ambition to start a business, or are you actually doing it? Doing it means answering the phone when it rings.
Businesses hanging out a shingle, getting that Google places listing, polishing up their SEO to get a good search engine rank, and hoping for good word of mouth are truly only 10 percent of the way to the sale.
If all of those things happen and you don't answer the phone, you're dead in the water.
Yes, this same imperative applies to online businesses, consultants, writers, and everyone else.
Three Keys to Answering the Phone
Manage your time effectively. Make answering the phone a priority. Yes, it's probably more important than posting on your Facebook page.
Create a system so that nothing slips through the cracks. Whether you're using a notepad or a sophisticated contact management system like Salesforce or Nimble, put a mechanism in place that will remind you to follow up.
Practice active listening when you do answer. Don't launch into a pitch; wait and let the person on the other side tell you what they are contacting you for.
If you show up and answer the phone, you'll come out ahead every time. (But let's keep it our little secret, ok?)