A Weekly Series by Teresa Morrow of Key Business Partners, LLC
I'm Teresa Morrow, Founder of Key Business Partners, LLC and I work with authors & writers to help them with their book promotion and social media marketing. As part of my job I read a lot of books (I enjoy reading anyway!).
This week I will be highlighting two books; one author I am currently working with 'iPad Means Business' by Julio Ojeda-Zapata and one book on the business Amazon list 'Content Rules' by Ann Hadley and C.C. Chapman.
The books I cover in the Social Media Book List Series will cover a range of topics such as social media, marketing, blogging, business, organization, career building, finance, networking, writing, self development, and inspiration.
'iPad Means Business: How Apple's Tablet Computer is Changing the Work World'
by
Julio Ojeda-Zapata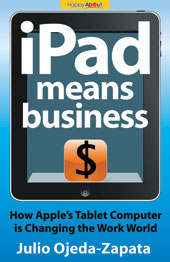 "The most common question asked by potential iPad buyers: 'Other than playing Angry Birds, what the hell can I do with this thing?' Citing example after productive example, Julio Ojeda-Zapata capably
makes the case for the iPad as business tool."
Christopher Breen, Macworld Columnist and Podcast Host
"If you think the iPad exists just to make its owners look cool, read this book. You'll see the iPad in action within businesses of all kinds, and get ideas of how to use it in your business."
Natali Morris, CNET TV Tech-news Anchor and CBS News Tech Contributor
iPad Means Business tells the stories of tablet-wielding workers, companies, students and teachers around the world. As a business book, it offers inspiration for anyone, at any level in business or education, who wants to become truly productive on the iPad.
As a how-to guide, "iPad Means Business" provides concrete advice on the best work-related apps, accessories and procedures, along with a road map to the best iPad resources. This is an essential starting point for workers wanting to get the most out of their iPads.
As a bonus, "iPad Means Business" offers the thoughts of several iPad experts. Readers will get glean wisdom from blogger and productivity advisor Patrick Rhone; technology and new-media consultant Scott Bourne; and technology marketer and former Apple executive Mike Evangelist.
This book is an essential read for anyone wanting to learn why the iPad Means Business.
Here is the table of contents to give you a glimpse of the helpful information about iPad:
Introduction: So You Want to Use an iPad for Work
Chapter 1: Apple's tablet arrives and gets to work
Chapter 2: Individual Workers Embrace the Tablet
Chapter 3: Companies of All Sizes Deploy the iPad
Chapter 4: The iPad Finds a Place in the Classroom
Chapter 5: App Developers Exploit That Big Screen
Chapter 6: I Go on a Work Trip Taking Only the iPad
Epilogue: Apple Faces Rising Tablet Competition
Afterword: 'An Embryonic Journey' by Mike Evangelist
Appendix: Recommended Resources
About Julio*:
Julio Ojeda-Zapata covers consumer technology for the St. Paul, Minn.-based Pioneer Press newspaper, where he writes a weekly Tech Test Drive column and blogs about the latest tech trends. During a lifelong career in journalism, he has worked as an editor and earned many awards for his writing. He is the author of another Happy About book, Twitter Means Business, which documents how Twitter became a crucial business tool. He is a gadget junkie, an Apple addict, a social-media maven and total nerd.
A native of Quito, Ecuador, he spent the bulk of his childhood in San Juan, Puerto Rico and considers himself a "boricua." He lives in St. Paul with his wife, son and Pepita, the world's most-spoiled guinea pig. Learn more about Julio at ojezap.com.
You can purchase a copy of 'iPad Means Business' online from the publisher site, Happy About or on Amazon. *I did receive a digital copy of this book from the publisher to help in the promotion of the book.
Next, I would like to introduce you to a book on the business book list on Amazon and on my reading list: 'Content Rules'.
'Content Rules: How to Create Killer Blogs, Podcasts, Videos, Ebooks, Webinars (and More) That Engage Customers and Ignite Your Business (New Rules Social Media Series)'
by Ann Hadley and C.C. Chapman
"I should preface this review by saying I have been podcasting and creating content for the web for over five years now, and that I regularly help clients do the same. This said, I was expecting Content Rules to be a good book on the subject, but perhaps one of those that did not speak to me, because of my experience. I was wrong- Content Rules speaks to everyone- even seasoned content creators, by providing the metrics we may know around content creation, but haven't yet articulated, and helps make the case for content for everyone from people getting their feet wet on the Web for the first time, to those who are looking to raise their game and up their level of engagement with others online.
Content Rules is compelling and honest from the introduction on. It is a book I can hand my clients, friends, teachers- almost anyone who wonders why people need to or bother creating content for the web- to help not only explain why compelling content is important, but how to create it. It helps people break down the barriers that often get in the way of creating compelling content, and instead gives them some parameters on how to make sure your authentic and compelling voice shine through. In addition, the examples and case studies in the book bring the rules to life, in a way that will help folks understand how to find their human voice, and why that is so important to success in contrast to another paragraph of over-polished, sanitized, personality-free "safe" messaging.
I'm really excited by Content Rules as a book I can enthusiastically pass on to friends, colleagues, clients and more. If it's between a more generic book on social media or online marketing and this one, you need Content Rules because it will help you understand the fundamental approach you need to take regardless of the tool, platform, network or marketing plan- you need to concentrate on your Content first."
Whitney Hoffman Amazon review 5 stars
About the Book*
Ann Handley and C.C. Chapman, business writers, speakers, and marketing thought leaders for clients such as The Coca-Cola Company, HBO, and Verizon Fios, show you how to leverage all of today's tools to create content that truly speaks to your audience. They'll show you how to:
* Understand why you are generating content—getting to the meat of your message in practical, commonsense language, and defining the goals of your content strategy
* Explore ways to integrate searchable words into your content without sounding forced (or sounding like "Frankenspeak")
* Write in a way that powerfully communicates your service, product, or message across various Web mediums
* Create a publishing schedule that allows you to create different kinds and types of content at once
Offering examples of businesses using content effectively across a wide range of industries and fascinating explanations of how you might approach your own content strategy, Content Rules is the essential field guide to creating your story, finding the right balance of humor and humanity in your content, and building a portfolio of value that will keep delivering for the long haul.
About Ann*:
Ann Handley is the Chief Content Officer of MarketingProfs, a rich and trusted resource that helps businesses market their products and services smarter and better. Entrepreneurs, small-business owners and marketers in the world's largest corporations make up its 361,000 subscribers, making it the largest in its category. (Does that sound like marketing-speak? It's not; it's just true.)
She is a 12-year veteran of creating and managing digital content to build relationships for organizations and individuals. Also, she's a writer who blogs at her personal blog, A n n a r c h y, as well as American Express OPEN Forum, Mashable, and The Huffington Post.
Previously, Ann was the co-founder of ClickZ, one of the first sources of interactive marketing news and commentary.
She lives near Boston in a slightly creaky, comfortable house with 2 kids, 4 dogs, good coffee in the kitchen, decent wine in the cellar, a stack of New Yorkers by the bed, and an occasional field mouse in the laundry room.
About C.C.*:
C.C. Chapman was born in the Upper Valley of New Hampshire and is a modern day renaissance man. He is a passionate content creator, photographer, father and entrepreneur. His business experience has won awards and he has worked with a variety of clients including American Eagle Outfitters, HBO and The Coca-Cola Company.
C.C. is the Founder of Digital Dads, a site where a dad can be a guy and is the host of the popular Managing the Gray podcast. He lives outside of Boston with his wife, two awesome children and dog Roxie.
*courtesy of book website and Amazon
You can purchase a copy of 'Content Rules' on Amazon.
I truly hope you will check out these books and please comment and let me know your thoughts on them.