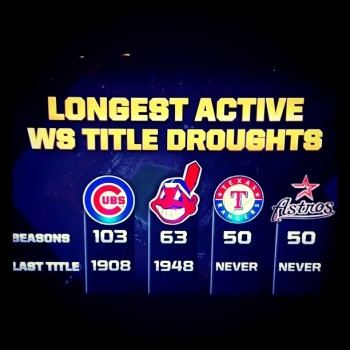 It isn't that often that I would talk baseball on a business blog. But with Opening Day upon us this week, could there be a better time to discuss the two?
Just as a business owner has to go about trying different things to make their company successful so that it sees a strong ROI (return on investment), the owners of the Cubs, business owners at that, have tried year after year to put a pennant winning team on the field. To date, they have unfortunately struck out.
I have been following Major League Baseball since my childhood days in the 1970s. While many things have changed since back then – there has been one troubling consistent in the world of professional sports on the north side of Chicago – the Cubs have not won the World Series.
Truth be told, I don't see the Cubs winning in my lifetime, and I'm hoping on being around for some time to come if the guy upstairs allows it.
Those loveable Cubbies, who tickled the fancies of their fans back in 2003 before losing to the eventual champion Florida Marlins in the N.L. Championship, have not won the big pennant since 1908, let alone appeared in the World Series since 1945.
Curses, Why Can't They Win the Big One?
From the often-mentioned Billy Goat curse to the Steve Bartman incident in 2003, the Cubs have simply not been able to go from start to finish without slipping up somewhere along the way.
Now mind you, the Cubs have had some outstanding players over the years, among those Ernie Banks, Billy Williams, Ron Santo, Fergie Jenkins, Ryne Sandberg, Lee Smith and Mark Grace to name but a few. Still, no World Series flag flying above the friendly confines of Wrigley Field since 1908.
In the early 1980's, I had the opportunity to attend my first-ever Cubs game at venerable Wrigley Field. To this day, it remains one of my favorite MLB experiences of all time. Other than the original Yankee Stadium, which I got to go to as a child numerous times growing up on the East Coast, nothing evoked history to me like Wrigley Field (I have not been to Fenway Park yet).
Still, despite all that history and what can still be considered a bit of a home field advantage by having a large number of day games during the hot and humid summers that are Chicago, the Cubs have not been able to hoist the World Series trophy in my lifetime or even my grandparents for that matter.
The Pressure is Squarely On
When the Boston Red Sox won their first of two titles last decade, the monkey was taken off their backs for a very long drought (had not won since 1918) and placed squarely on the shoulders of those lovable Cubbies.
While I am not one that enjoys seeing others suffer, I must admit with a slight twinkle in my eye that there is something a tad funny about the Cubs and their years of stumbling and bumbling.
Trust me, as a lifelong New York Mets fan; I know what stumbling and bumbling looks and smells like. I did, however, get to enjoy the 1986 title over the previously mentioned Red Sox, so I could die tomorrow and my baseball life is perfectly fine.
Ever since the Cubs moved out of the N.L. East (starting with '94 season), their rivalry with the Mets has lessened year after year. As it stands now, my animosity still continues to be directed towards the Atlanta Braves and my native city of Philadelphia and those dreaded Phillies.
As for those Cubs, I wish them well going into this season.
As for the Cubs winning the World Series anytime soon, I think someone that was a community organizer in Chicago at one time has a better chance of getting elected President.
Wait a minute….
Photo credit: mothra04.blogspot.com
Dave Thomas, who writes on subjects such as starting a small business and workers compensation writes extensively for San Diego-based Business.com.