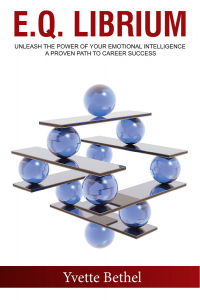 Have you ever had a colleague who was totally brilliant, but had no clue how to handle office politics?
Whenever humans are required to work together in an enclosed space, there is conflict. Those who can manage their emotions effectively become the leaders, and those who can't, are always grumbling together in the break room.
E.Q. Librium, by Yvette Bethel, provides you with practical tools that can help you achieve balance through your emotions. The book offers a diverse array of case studies, stories, and examples that illustrate how emotional intelligence impacts every aspect of our lives.
The author draws on research as well as her own experiences over 20 years within a Fortune 500 company to offer guidance on how to improve one's emotional intelligence. That's the good news–while your IQ is pretty much determined at birth, your EQ can be lifted if you take the time to focus on it.
This book, along with the associated workbook, are no quick-read opinion pieces. You'll want to take notes, read a chapter at a time, and put the ideas into action immediately. Be forewarned, though, you may catch yourself evaluating the emotional responses of others around you!
Value-Based Characteristics That Will Benefit You and Others
Integrity
Situational Ethics
Ownership
If you say you are going to do something, do it
Recognize biases
Demonstrate courage
Weigh as many sides as possible
Forgiveness
Communication
Responsiveness and resourcefulness
Ms. Bethel goes into detail for each of the above characteristics, providing a real-world case study and then research and explanation to go along with it. The chapter on resolving conflict is one I plan to refer back to in the future, as well.
I highly recommend this book for anyone who is interested in improving their relationships at work and at home. The principles outlined are applicable whether you're a solo entrepreneur, a recent graduate, a small business owner, or CEO of a large company.
Featured image via Flickr CC: aboutmodafinil.com
Disclosure: I was provided a digital copy of the E.Q. Librium for review purposes. The opinions in this review are my own, unbiased reaction to the book.