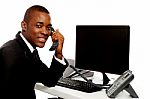 Your employees are the lifeblood of your business.
The right team is the difference between brilliant ideas and lackluster ones; excellent planning and management, and costly failures; great customer service and customer service that get you noticed for all the wrong reasons.
Finding the right employees can be time consuming and costly, so once you find the right people, you'll want to hang on to them.
The Bureau of Labor Statistics estimates that workers in the U.S. stay in a job for around 4.6 years.
What can you do if you want to retain your best employees longer than that?
Start with these steps:
1. Offer Great Benefits
Let's be blunt. If one of your best employees is offered a similar position with better pay, they're likely to take it. By the time you make a counter offer it could well be too late. Instead, offer your employees a good remuneration package from the start, paying well for their type of role.
Benefits go beyond wages. From medical and dental to life insurance and pensions, or even small perks like free tickets or discounted gym membership, a good benefits package can make all the difference.
Don't forget about flexi time, telecommuting or other flexible working to show your team that their work life balance matters to you.
2. Get Real Feedback – And Listen
Happy, fulfilled employees are more likely to stay with you. Set aside regular time to chat with your employees, or ask their direct manager or team leader to do so. Find out what they like about working with you, and what they don't. Follow up with an action plan you both agree on.
To learn more about how your employees feel about their jobs, foster open communications between employees and management. Make it easy for your team to have a chat with someone, and have their concerns heard and valued.
Consider using "stay interviews".
Talk to your longstanding employees about why they stay, what they love, what you're doing right and anything you're doing wrong,  to gain insight into what you're doing that encourages people to stay.
3. Encourage Your People to Develop
Keep working life interesting by encouraging your employees to develop within their roles. Start by looking at their daily tasks and offering further training if appropriate to help them learn new skills.
You can also invest in your employees' education.
By funding a course of study that's related to their jobs you'll be helping them to grow their skills, and encouraging loyalty by showing them that you value them enough to invest in them.
If you think one of your team is a great candidate for taking on new responsibilities, talk to them about it. Showing that you want to help your employees grow within your organization is an important part of retaining them.
4. Get Clear on Growth Pathways
As pointed out in the article "5 Ways to Retain Your Best Employees", if your best people only see stagnation on the horizon, they'll look elsewhere. Your employees want to know that they have a future with you. Make sure you plan for that future from the start.
Having a growth pathway is particularly important when it comes to retaining the best of the best. Talk to your employees regularly and agree on a growth path that suits you and them – and then stick to it.
Good employees have immeasurable value for your business, helping it to grow, to run effectively, and to increase profits.
Value your employees and support them to grow within your organization – show them that they matter to you and they'll be more likely to stay loyal and use their skills to benefit your business.
Photo credit: Image courtesy of stockimages at FreeDigitalPhotos.net
About the Author: Tristan Anwyn writes on a wide variety of topics, including social media, SEO, benefits packages and employee retention.