When Your Only Transportation Is a Bike
Steve Goodman wrote a song, "City of New Orleans." I can't hear it without thinking about the Rock Island tracks that went to Chicago alongside my dad's saloon.
Behind my dad's saloon was narrow leanto right next to the railroad tracks. By "right next to" I mean not more than fifteen feet away.
I can't fully describe it to you. I only saw the inside once when I was a very little girl. It made me curious. I remember thinking "It seems like my hideout in my closet." My hideout was magical. I didn't realize that for a grownup this probably wasn't.
It was made of some grayed-out wood, laminate — cheap stuff — shaped like a shoe box. It had holes I could see through — all the way to the gas station across the tracks. Inside was a cot, a table, a chair, a dirt floor. The door on the shack flapped in the wind and only had a weird wood thing that turned on a nail to hold it closed, kind of like what you find in a bad bar's bathroom stall.
The man who live there, they called him "Seewall," walked tall. He was always smiling. I see him at my dad's saloon. Sometimes he'd be moving a mop. Sometimes he'd be running errands. Sometimes he'd be carrying boxes. Sometimes he'd be talking to me like Donald Duck and making me laugh. As shy as I was, as much as he owned the space he walked in, we were friends.
He'd given up riding the rails. His only transportation was a simple wide-tired bike. It had a basket for carrying bags and stuff. No bell or brakes or anything that cool bikes had. Every night a 10pm as a ritual, he would pedal around the saloon and take down the stairs in the floor behind the bar. It was safe there. To me it seemed like that bike had one home and he had another.
Most importantly, he was happy.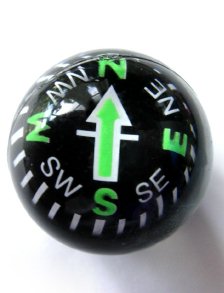 I was almost six feet tall and the man who lived in shack by the tracks was long gone, before I found out from my younger, older brother that his real name was something like Sewell Southward Sebastian Fleming, the Third. It's a name that sounds like he had something before the Great American Depression. Some might say that the man lost everything.
He always acted as if he found it.
Guess a shack by the rails might mean something different to a guy who took on life as a true hobo. He always had access to his freedom. But he never went. He talked to me once about a compass. I never asked where his was. I just knew that he had one.
Have you found your compass? He said you need one if you're going or staying anywhere.
–ME "Liz" Strauss
Work with Liz!!