Hear the Women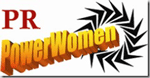 Meet some spectacular women in blogging.
ToddAnd made the Marketing Power150. It was built to offer some organization and respect to the wide world of marketing blogs. The Power 150, based on an algorithm of five ratings, is now a partnership between ToddAnd and AdAge.
Yesterday, Valeria Maltoni at Conversation Agent shared the list of Women's PR blogs that was originally pulled from Todd's list by Kami Huyse at Communications Overtones. Valeria points out the focus on and the power of male bloggers in the blogosphere.
The statistic Kami drew out is valid pretty much all over the place. Go to Fast Company Expert blogs where I post every Thursday and count the males and female bloggers — 26 to 6.
Are there truly 5+ to 1 men bloggers to women bloggers? Why should we care?
We should care because women are great at conversation, strategy, and writing. We should care for the same reason that no one should be overlooked.
So Valeria has made a suggestion.
Maybe we can start a W-List to help us all discover great blogs authored by women.
I've been exploring these blogs since yesterday. I'm proud to present them. I'm surprised at the one I didn't know were out there. With that in mind, I'm passing on the entire list with these additions:
The W-List
I've incorporated the above blogs in the list.
Now the list seems to be filling out nicely. What women bloggers can you add?
–ME "Liz" Strauss
Is your business stuck? Check out the Start-up Strategy Package. Work with Liz!!