The LANGUAGE of SOCIAL MEDIA
Words have a deep effect on
how we interpret and interact with the world.
The words we use and how we define them
reveal our interests, concerns, and values.
This series explores the words of social media.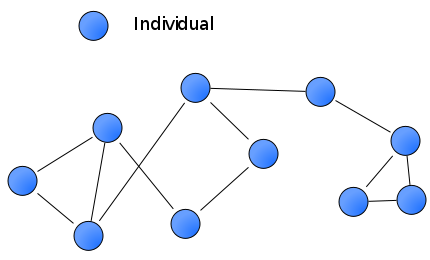 social networking and a social network
Most literally, social networking would be meeting and making connections and relationships — both business and social — online and offline. In the lexicon of social media, social networking involves establishing an online presence and connecting regularly with other people and businesses who have done the same. Connections are made through hyperlinks and references embedded in personal profiles, comment text, audio comments, podcasts, videos.
Social networking sites provide efficient ways for individuals (and individual businesses) to find and connect with friends and colleagues, to establish new relationships and deepen them, and to introduce friends and colleagues to each other. Many social networking sites also offer platforms for discussion of topics that a community or network finds mutually interesting or beneficial.
In the most concise terms, a social network is a group of like-minded individuals connected by a common interest.
@rubybluesox: "we know 'enough' about each other that we could 'hang out' in person and be friends … but in a 'linguistic' way… so it requires a certain depth that most 'marketers' aren't used to"
@thomasclifford: "What is social networking? A means to validate our search for meaning."
@brendansmith: @pixelfan for me everything i do in social networking is business, for fun, family and friends, I use the phone or meet face to face
@pm_41: @mashable Why would I hire people to tweet for me? The whole idea of social-networking is to express YOURSELF in front of the world.
@brunsvold: I sometimes get the feeling that social networking is like high school. The only way to survive is to pretend to be too cooler than everyone
For more information see:
Social Network
Social Networking in Plain English
Social-networking sites work to turn users into profits
I Saw The Future Of Social Networking The Other Day
Leadership, the Internet and the 'Tribes' of the World
SEE ALSO:
What Is Social Media?
Got more to add? C'mon let's talk.
–ME "Liz" Strauss
Work with Liz!!