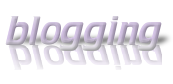 —-
By Jael Strong
A colleague and I were recently discussing character blogs, a type of blog in which a writer blogs as if he or she is a character off of a television program, movie, etc.  The idea is enticing; it takes anonymity to a new level.  Who doesn't want the freedom to write behind such a disguise? Unfortunately, this blend of acting and writing doesn't appear to be open to just anybody.  A writer needs to be hired for such ghost writing.
 
Still, isn't there something here to help out the rest of us bloggers?  I think so.  First, what makes this type of blogging inviting?  As I noted above, the freedom of anonymity is appealing.  Blogging offers that to everybody though.  We write in amongst a sea of other writers.  Very few of our readers know us personally, so there is room for a little bit of self-invention in this forum.  I'm not condoning deception of your audience.  I'm saying that if anonymity is what you crave, take this opportunity provided in your blog. 
 
In practical terms, how would this reinvention work?  For example, if you are withdrawn by nature, your blog can be a place to create a persona that is outgoing.  If you are known in the real world as insensitive, even crass, you could use your blog to develop a more sympathetic, kind self.  If "reinvention" doesn't sit well with you, we could call it developing a more improved you.  In any case, this is a type of ghost writing in which you are the writer for whom you are the ghost writer.
 
Is there anything else appealing about this process?  From my point of view, this type of blogging allows for more creativity, especially if you are writing from an entirely new standpoint.  Writing as if you are someone else is not only fun, but allows you to tackle topics from a brand new angle.  The challenges would be different from those of a typical blog, since consistency of character and background would be an issue.  But for someone who loves writing creatively, this obstacle would be enjoyable to overcome.
 
Simply inventing a new character and writing from that angle sounds wonderful to me.  Tweaking my personality traits via a blog also has its draw.  Both come with new challenges and even new responsibilities, but those writers who do it seem to be having a great time with those difficulties.  What do you think about this type of blogging?

Jael Strong writes for TheWriteBloggers, a professional blogging service which builds clients' authority status and net visibility.  She has written both fiction and non-fiction pieces for print and online publications.  She regularly blogs at Freelance Writing Mamas .
Thanks, Jael
–ME "Liz" Strauss
Work with Liz on your business!!
I'm a proud affiliate of