"Relationships are everyone's business, and every business is relationships," explains strategist and presenter Liz Strauss of Successful-Blog.
According to EatonWeb, "Liz Strauss is perhaps the most influential relational blogger on the Internet." Her blog — Liz Strauss at Successful Blog — has been called both a destination and an event. She is known as connector who makes lasting relationships. Her blog has tens of thousands of comments. The WordPress Plugin Liz Comment Counter by Ozh was named in her honor to celebrate her dedication to responding to the readers of her blog.
Liz is a social web strategist and community builder. Coming from a background of publishing, business, and instructional design, Liz understands how people perceive a blog, a product, and an experience — how the head and heart engage to make a fiercely loyal customer. She can articulate what makes things irresistible — what keeps people coming back — from literacy, editorial, design, and marketing sensitivities.
Liz works with businesses, universities, and individuals to help them understand how text, words, and images work in the culture of the social web. She has over 20 years in print, software, and online publishing, and has strategized with publishers in Europe, Australia, the UK, and Ireland. She was recently a featured speaker at the Cass Business School of City University in London and taught a Master's Level class at the CityU School of Publishing.
Liz is the founder of GeniusShared a company that provides a range of products and experiences designed especially for today's business builders. Through an exclusive and highly connected community, GeniusShared brings together a team of exceptional thinkers and doers who are committed to working together to build each other's business while they build their own.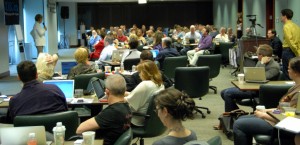 Liz was also the founder of SOBCon — which gained the partnership of companies such as Citrix – GotoMeeting, GMC, Intuit, Glam Media, IZEA, ReveNews, Walmart, Colgate, Allstate, and Klondike Frozen Treats, as well as the attention of BusinessWeek, the Chicago Sun-Times, the Chicago Tribune, and the Innovation Initiative of the Kellogg School of Business.
"Meet Liz Strauss, founder of SOBCon, the high-touch business summit, social web strategist, and one of the most thoughtful, prolific bloggers on the planet." — Connie Deiken, The Top Influencers Alive: 10 Breakout Influencers of 2011
You can follow Liz Strauss on Facebook or Twitter.
Awards and Achievements
In addition to the Top 10 Influencer Alive List offered by the Huffington Post, Liz was also named to two Forbes lists: The Top 50 Social Media Power Influencers and "The Top 10 Women Social Media Influencers." Not to mention, Liz was named Titan of Web 2.0 at II World Forum, "Communication on Top," in Davos, Switzerland.
She has been named to the Top 100 Social Media & Internet Marketing Bloggers Top 100 Most Influential Marketers of 2008 and 2009, the 50 of the Most Powerful and Influential Women of Social Media, NxE's Fifty Most Influential 'Female' Bloggers and her blog is listed on Alltop Social Media and Alltop Twitterati.
Liz also wrote: The Secret to Writing a Successful and Outstanding Blog: An Insider's Guide to How Conversation Is Changing the Way that Business Works.
Best Of
These are signature posts Liz has contributed around the web.
Business and Strategy ("head")
Chicago Tribune, June 2, 2008: Blogging proves beneficial for some businesses
1.2 WHY Doing What We Love Is Solid Business Thinking
121: What's the Key to a Promotion Strategy?
Hope Seth Doesn't Mind if I Go Even Further
Living ("heart")
Personal Identity: What Is Humility?
Change the World: One World-Sized Idea
The Top 10 Ways to Start Living Your Life
The Living Web
Social Networking: Am I a Person Or an Item?
The Two Webs: Information or Relationships?
Connectors and Mavens on the Tipping Point
Writing
9 + 1 Things Every Reader Wants from a Writer
Are You a Writer? 7 Traits that Writers Have in Common
The Problem with Writing . . . 25 Things to Know BEFORE You Write for a Living
Blogging
10 Reasons Readers Don't Leave Comments
Love at First Write: 5 +1 Steps to Your Authentic Writing Voice
Interviews and Mentions
I'd like to thank these folks for quoting me on their blogs and magazines.
Inc.com The Best Small Business Blogs
Brief Case Study: Liz Strauss appreciating readers on Successful Blog through comments and through encouragement awards
The Blogosphere's Original S.O.B.
Rossonerian – AC Milan News Blog
You Can't Have a Community Without People: A Chat With Liz Strauss
Liz Strauss the Voice Behind the Blog
A Personal Interview with Liz Strauss
Interview with Liz from Successful-Blog
Learn from Liz: An interview with successful blogger Liz Strauss
Someone I'd Like You to Meet
Write Up Your Alley with Liz Strauss
Bloggertalks, Liz Strauss, Queen of the SOBs
At TechZ Online.net
Interview – Strauss At Working at Home on the Internet
Guest Writing
How a Trackback after a Comment Can Start a Relationship
A Strategy for Relationship Linking