The Secret of a Lifetime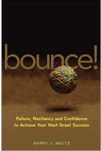 Are we at the end of the week already? In this five-day series, we're talking with Barry Moltz about five key facets of his book, Bounce!: Failure, Resiliency, and Confidence to Achieve Your Next Great Success, which goes on sale January 28, 2008.
Barry has explained what he means by the idea of Bounce! He's shown us the three paths we're told lead to success and why we should honor our failures. Then he's explained how to enjoy a one-hit wonder. With this last question, we explore the mythology of success.
Barry, You talk in the book about ways to free ourselves from success myths that strangle us by "Downsizing our Dreams" and "Striving For Minimal Achievement." People search a lifetime to find this type of secret. Can we really do that?
We are constantly told to conquer that next mountain. To grow our businesses and our careers as big as possible. To get richer, bigger better faster, Achievement has become our addiction. If so, why can't we just lower the bar a bit. Get in touch with that inner laziness that up to this point has eluded us.

That is why I want all of you to commit to me that after this meeting that you will downsize our dreams and begin too define our own brand of success – not someone elses. Forget the grand vision. Besides there is always someone that is going to be richer, smarter or better looking than you- I know, not you but for the most of us.

First, we need to set patient, interim goals…get small!. I remember when I asked my Zen master when I first began mediating, how long I should mediate for- 15 minutes, half hour or an hour each day? He said that I should try it for a minute for each day for the next few months. If I was successful, I should go to two minutes. He always taught me to strive for minimal achievement by focusing on one small goal at a time This is where I learned when striving for new goals, what we important in the climb was not even to get a foothold. Get a toehold…if you can get some progress toward your goal, you have a better chance of achieving it in the long run.

..

Who won the race, the tortoise or the hare? And who lives longer. Hares live to 4 years old and tortoises, well the can live to 100

After downsizing our dreams and getting that toehold, we next figure out what will make us happily successful. Most of us will immediately say is to make a lot of money. Money is an important measure of success. It is how we keep score. But if we never get to that pot of gold at the end of the rainbow, will our life trip be for nothing. However, we can all take solace that many people that have a lot of money are really unhappy!
Thanks, Barry, for five days of great conversation!
And thanks for lunch yesterday too.
Find more great information about Bounce! and advice on success and failure at BarryMoltz.com And buy his book Bounce!: Failure, Resiliency, and Confidence to Achieve Your Next Great Success !!! I've read it. You should too!
–ME "Liz" Strauss
If you'd like Barry to do a guest post or an interview at your blog during his virtual book tour, email me at lizsun2 at gmail.com