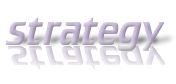 2009 … We couldn't get it far enough behind us. Who wasn't ready for the calendar year to turn? We were ready to be back on the winning team again. Many of us revisited our thinking, our our strategies, our resources, and our work styles to be on our best game.
What Was the Best Decision You Made to Grow Your Business in 2010?
I asked 21 entrepreneurial All-Stars (add me and you get 22) to share in a few words what was the best decision they made in 2010 to keep their businesses growing. The answers sorted easily into five major ideas — best practices for sure.
Here's what we all said. [I've included the links to their blogs and their twitter streams. If you subscribe to them, you'll have your own online entrepreneurial advisory board.]
Have a strategy
Strategy is a practical plan to move forward over time. Great strategy is based on a solid foundation based on who we are, where we sit in the overall picture,the current conditions and the unique opportunities that are ours.
Sheila Scarborough, @SheilaS jumped on this with her thoughts …
My best move this year was to embrace the realization that even as only one person, I have as much ability as a "big agency" to attract quality clients. Why? Because in 2010 I saw that my supposed weakness (being one lone person) is actually my strength. As a solo operator, I don't have to deal with time-suck meetings, clients that are assigned to me, having to go through a bunch of committees to get things approved, etc. I can organize my time, smarts and effort to be more nimble, more responsive, more knowledgeable and quicker-on-the-draw than anyone else. That rocks!
Carol Roth, @caroljsroth added foundational wisdom to support what Sheila laid out …
Let myself take a few steps backwards in order to build a foundation to make leaps and bounds forward. In concrete terms, this meant not taking on a few very lucrative clients and projects in order to invest more time and effort in a foundation that will allow me to achieve the next level of goals for my business. As difficult as it was to let the proverbial bird in the hand (or should I say "Benjamins" in the hand) go, the potential ROI from the investment more than makes up for that risk.
Turn Decisions into Action
We can strategize ways to grow our own food and cook it, shop for salad, order in, or dine out. But if we don't decide, execute on a plan, and eat. We'll be dead.
Michael Martine, @Remarkablogger has decided …
The best decision I made was to decide to grow it instead of just wishing it had already grown, setting goals, then creating and following a plan to reach those goals.
Britt Raybould, @britter moved to action on a long-term plan …
Attending SOBCon helped me kick off a long-awaited project to add knowledge products to my business, creating an additional income stream separate from my hourly and project-based work. The time investment now in creating these products will pay off huge during the next five years. It's will also add some much-needed balance to my business.
Jason Falls, @JasonFalls decided focus is crucial….
The best decision I made in 2010 was to eliminate distractions and really focus. The flood of messages, requests, things to do and what-not that social media brings will drown you. Prioritize, eliminate the unnecessary and focus on the important parts and you'll see a noticeable difference in moving your needles.
Pamir Kiciman , @gassho has put his strategy to work in new venues to get new results …
I opened a personal Facebook account. This has helped engage my audience much more directly. For instance, people who weren't subscribing to my blog via email/rss, did start following it via NetworkedBlogs. This also attracted others on the periphery. And many more people are voluntarily promoting my content. This, and starting a YouTube Channel have put me on the map in new ways.
Stay a Learner
A growing business needs growing leadership to move it forward. Leaders listen, learn, and reach out to others who are finding new solutions, who are testing new ideas, and who have been where we're trying to go.
Christina "CK" Kerley, @CK says is moving outward …
The best decision I've made in 2010 to grow my business is, consequently, the best decision I've made in other years, namely: to keep breaking new ground through learning new methods, new media and new solutions around which I can build new practice areas for my business. In 2010, it's 'B2B mobile marketing' just as in years past it's been around B2B social media, Speaking, Training, Strategy and more.
Terez Howard , @thewriteblogger learns from the best …
The best decision I've made this year is to follow the advice of seasoned professionals. I look to successful freelance writers and bloggers to give me the guidance I need to succeed.
Jyl Johnson Pattee, @jylmomIF is getting uncomfortable …
The best decision I made in 2010 to help my business grow was to go outside my comfort zone and do things I didn't know how to do—things that were necessary to take my business to a new level. This has required putting fear aside, asking for help, listening, and being willing to shift directions. Ultimately, it has helped me grow my skill set, increase my knowledge, and form amazing relationships. It has helped me see that the path to business success is made up of opportunities that require dedication and pushing forward, even when that forward motion is, at times, foreign and/or difficult.
Sally Hogshead , @SallyHogshead is using her beginner's mind.
I aspire to be the dumbest person in the room. I surround myself with people who are smarter than I am: people with knowledge, experience, skills, network that's greater than my own. If I'm intimidated by a certain person or group, all the better — these are the people who can challenge and inspire and push me to the next level.
Hank Wasiak, @HankWasiak isn't holding back …
"Embrace Risk, make a mistake and then fix it better than anyone else. This is the first time in history that how we address and correct a mistake or deal with an issue is perhaps even more important than the mistakes themselves. I see it as a way to put my values and commitments on the line and an opportunity to create a distinct advantage and leapfrog competition."
Enlist Reinforcements
A person who walks solo is limited by what one person can do, see, perceive, learn, and know. Great businesses are build on relationships that align goals to build something greater than anyone person can alone.
Barry Moltz, @barrymoltz explains how is investing in others …
I invested money in smart people to help me evolve my business thinking and execution.
Janet Fouts, @jfouts deepening relationships ….
I decided not to go in for the conventional business promotion ideas like yellow pages and print ads and trust my instincts. i know that almost all of my business is word of mouth referrals, so I dedicated more time to deepening existing relationships on and off line to encourage the people I know and work with to help me promote my business. I got more speaking opportunities which led to more business as well as a second book!
Shelly Kramer, @ShellyKramer is including others and herself in her business plan …

I've made two strategic decisions thus far in 2010. First, I follow Hank Wasiak's advice and collaborate more instead of less. Today's business world is about collaboration, not competition, and the people who get that are, in my opinion, strategically positioning themselves for growth and prosperity. Secondly, I consciously try and pay myself first. That means that instead of always letting others' needs (including my clients) come before my own, I make a concerted effort to pay myself first. That means writing blog posts for MY blog, doing press releases about MY business, and never forgetting that I'm the only one responsible for growing and maintaining my business.
Lorelle Van Fossen , @lorelleonwp gives herself over to the team.

Collaboration. I realized a long time ago that I couldn't do it all alone. In order to make my business dreams come true, I needed to throw off the mantle of "I am the only one who can do it all" and realize that it takes a village.

Coming on board the incredibly creative team of Woopra a few years ago brought home this thought of the joy of teamwork actually ingnited by my work with Liz Strauss on Successful and Outstanding Bloggers Conference (SOBCon) and other projects. She taught me how to "play nice" again with others, something I abandoned years ago when I left the corporate world with intent, an atmosphere of "if you can't step on them, fire 'em."

Last year, I solidified my investment in Bitwire Media with the innovative thinker and rule breaking producer, Dave Moyer, and Kym Huynh, the Aussie surfin' lawyer. With their help, I've put passion back into my work and my life. Working with people who challenge you to be you all the time, call you on your ignorance, and make you sit up straight, pay attention, and think harder and faster than ever, as well as produce better and with greater quality – it's so exciting.

I'm now bringing this same energy and enthusiasm – okay, call it passion – to all of my work, with all of the customers, clients, and companies I work for, to my training programs and workshops, keynotes, and every part of my life. All because I changed my thinking. You cannot do it all alone. Reach out. Connect. Share. And mean it.
Let Go to Create!
Holding tightly to what once worked or to what might earn some currency or credit can also make it hard to grab hold of the opportunity that will take us to our ultimate dream.
Tammy Lenski, @TammyLenski
"I decided to stop offering peripheral services that took time and energy away from work that's at the core of my value to clients, even though the peripheral services were bringing in income. The new doggedly focused approach has been substantial growth."
Oded Noy, @SocialApproach adds a measure of awareness …
Have the discipline to let go of those aspects of the business that don't work.
Toby Bloomberg, @tobydiva points out that to grow it's important …
To take more chances to color outside the lines.
Rajesh Setty , @UpBeatNow chimed in with a similar thought …
Letting go of deals that were not there in the first place. Just that one action saved a lot of time that I was able to put to use more productively.
Nurture and Feed Your Purpose
Tending the dream fire and keeping the resources that ignite it could be the most important idea of all. Building a business takes energy, passion, and a willingness to work when the work isn't always fun.
Becky McCray , @BeckyMcCray added something that we often overlook …
I took time away from my business, in order to grow my business. After three days at a terrific business conference, I took three days of quiet reflection with only a few friends. The result is a better focus, renewed purpose, and many new ideas, and now I'm sure I'm on the right course to grow in 2010.
Live the Person You Want to Be
More than half of any business success is showing up with all that you have — integrity, consistency, competence, confidence, and compassion.
@LizStrauss
The best thing I did for my business this year is decide to "kill off all other options" to be known for the unique, strategic, innovative, community builder I am. I am showing up fully, entirely, and living my abilities and passion full out. I am focused on my priorities, with a clear vision of where I'll be when the year is done and where I'm going after that.

To keep me on that path, I've built the following model on which to test everything that comes up.

How can I incorporate this idea, action, or plan onto the path that moves me to my destination? If I cannot, who would could gain traction from this great idea, action, or plan?
Does this offer to speak, work, or volunteer move toward my goal?
Is there a way to partner with others with similar goals so that we all benefit at the same time?
What about you? What is the best decision you made for growing your business in 2010?
–ME "Liz" Strauss
Work with Liz on your business!!
Get a Great Deal When You Join Third Tribe Before June 1, 2010. I'm a proud affiliate.