Enneagram Series by Mark McGuinness
Having introduced the three Enneagram Heart types in my last post, I'll now move on to the three thinking or 'Head types'.
The minimum you need to know about the Enneagram symbol is that it is divided into three parts, representing the three 'centres' or types of intelligence in human beings – emotional, mental and physical. Another way of looking at the three centres is to see them as corresponding to different types of action – relating, thinking and doing.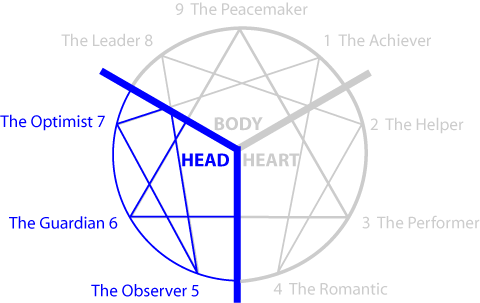 In this post I will outline the three 'Head' types – types Five, Six and Seven. These types' strength lies in their mental intelligence – their ability to think clearly, to penetrate deeply into a subject or to create new options for action.
It's important to remember that no types are better or worse than the others. Each type has strengths and weaknesses, opportunities and obstacles. And the Enneagram is not about putting people in boxes – we all have the potential to occupy any position on the Enneagram, and in different situations we can take on the characteristics of any of the nine types.
Type Five – The Observer
Type Five has a gift for focused concentration and deep thought, able to analyse a problem, topic or situation and reach carefully reasoned conclusions. Fives take their identity from their status as guardians of knowledge and founts of wisdom. Because of their patient ability to explore a subject in depth, they become authorities on whatever they set their mind to. Problems arise when thinking becomes a substitute for action, and when they get so used to 'living in their heads' that they lose touch with their own feelings and become insensitive to others.
The stereotype of the Five is the ivory tower intellectual, but they are not necessarily academics – they are the deep thinkers and reserved characters to be found in any walk of life, the ones most likely to take a step back from a situation and give it considered thought.
At their best Fives are wise teachers, generous with their learning and eager to help others. They are able to set aside their own prejudices and examine the data impartially, often reaching an original conclusions that it is hard to contest. They know the joy of learning for its own sake, regardless of trappings such as qualifications or high status positions. They are able to balance deep thought with a healthy awareness of their own feelings and deeply felt connections to those around them.
At their worst Fives are cold and distant, cutting themselves off from others and withdrawing into a world of abstract thought. The respected authority becomes a boring know-all, highly sensitive to any perceived slight on their status as the fount of all wisdom. The thirst for knowledge turns into an obsessive collection of data, without regard for its utility or relevance. Lost in a world of abstract thought, they lose touch with their real feelings and can compensate through compulsive or addictive behaviour. The dark side of The Observer is the paranoid Pedant.
We all experience point Five when we become so absorbed in learning about a topic that we experience a deep pleasure in marshalling all the facts and seeing meaningful patterns emerge – and maybe feel slightly superior to those who haven't looked into it so deeply?
Type Six – The Guardian
Type Six is a hard-headed thinker who applies practical intelligence to securing the wellbeing of a group – such as a family, circle of friends, team, company or country. Sixes take their identity from their position as loyal members of the group. Because of their ability to spot danger and put the group interest first they are dependable team players. Problems arise when their identification with the group leads to an 'us and them' mentality and they become suspicious of 'outsiders'.
The stereotype of the Six is the policeman or security guard, prepared to put their life on the line for the status quo, but they can be found as loyal members of any kind of team – such as those in business, sport, the military, politics or the family.
At their best Sixes are loyal, trustworthy guardians whose 'sixth sense' for danger is placed at the service of their community. They are able to keep a clear head even when alert for danger, and see potential threats in perspective, responding appropriately. They are happy to work tirelessly in the background, without the need for special recognition. They are wise enough balance their identification with their group with a healthy respect for others and their differences, and extend a warm welcome to strangers.
At their worst they are suspicious and volatile, quick to accuse and slow to trust or forgive. Their alertness spills over into paranoia. Both Fives and Sixes experience paranoia, with the difference that Fives are typically paranoid about themselves as individuals, Sixes on behalf of the group. Tormented by anxiety, they see everyone as a potential threat – 'insiders' are potential traitors, 'outsiders' are viewed with prejudice and can even be persecuted. The dark side of the Guardian is the paranoid Bigot.
We all experience point Six any time we feel part of a team and experience the sense of everyone pulling together to achieve a common goal – and maybe start to see 'outsiders' as 'the opposition'?
Type Seven – The Optimist
Type Seven has a gift for looking on the bright side of life and thinking up exciting new options. Sevens see themselves as 'the life and soul of the party'. Whether at work or play, they take it upon themselves to lighten the mood and help others to see the glass as half-full (and just waiting for a top-up). Because they are so good at infecting others with their enthusiasm they are charming company and usually surrounded by a group of friends. Problems arise when their optimism leads them to gloss over difficulties and makes them afraid of facing up to the darker side of life.
The stereotype of the Seven is the bon viveur and party animal, and there's no denying most Sevens have a taste for the finer things in life – but their optimism can also be applied to serious technical, business or life problems, where they can be relied upon to bring a solution-focused mindset and plenty of practical creativity.
At their best Sevens are delightful people, the first names on the list when invitations are going out and the last to leave at the end of the evening. They are concerned with others' pleasure as much as their own, and will go to considerable lengths to ensure that everyone has what they need for a good time – all the while insisting that 'it's my pleasure'. They are also wise enough to acknowledge problems when they arise, and to apply their intelligence and creativity to finding workable solutions.
At their worst Sevens cling to pleasure, sometimes to the point of addiction, as a way of avoiding difficulties and shirking their responsibility. Delight in the good things in life becomes a sense of entitlement, and they react angrily when others refuse to play the game and indulge their whims. Formerly charming, they can be bitterly critical and hurtful of their 'so-called friends'. The dark side of the Optimist is the selfish Hedonist.
We all experience point Seven when we are filled with an irrepressible sense of the joys of life and its possibilities, and an eagerness to share these with others – and maybe when we know it's time to face up to our responsibilities, but want to keep playing just a little longer?
Questions
Do you recognize yourself in any of these descriptions?
Can you think of an example of someone making an outstanding contribution by playing to the strengths of the Five, Six or Seven?
Part 4 in Enneagram — a Brief Introduction, The Body Types, will appear Monday, July 2, at about this same time.
_____________
Mark studied the Enneagram as part of his training as a psychotherapist. He has used it for his own personal development and in his work with individuals, families, and organizations. Mark McGuinness' business Wishful Thinking, is a specialist coaching and training service for creative businesses such as design studios, ad agencies, film and TV production companies, computer games developers, architect's practices and fashion designers.
Thank you, Mark,
–ME "Liz" Strauss
Related:
See the complete series listing at Series: The Enneagram – a Brief Introduction