Enneagram Series by Mark McGuinness
The Enneagram is about movement and change, letting go of fixed identity and opening up to the possibility of transformation. G.I. Gurdjieff, the teacher who first brought knowledge of the Enneagram to the West, taught that we have two natures – 'Personality' which is essentially illusory, an image of ourselves that we learn from others; and 'Essence', our true nature. The Enneagram type belongs to 'Personality' in this specialized sense – and is therefore false, something we are unnaturally attached to through conditioning. The aim of Gurdjieff's system was to help people let go of this false self-image so that their true Essence could emerge.
So the point of identifying your Enneagram type is not to put you in a box or stick a label on you – but to show you where the type (your self-image) helps you and where it is getting in your way. By deliberately working 'against' your type, you can open up new perspectives and make changes in long-established habits.
To give a personal example – by nature I'm quite a serious character (point One) who has always been keen to work hard and achieve things. In my early twenties I became very earnest about my personal and spiritual development – training as a therapist, attending meditation retreats and studying the Enneagram(!). This was very different to some of my friends who spent a lot of time at point Seven and were more playful and spontaneous – and usually ribbing me to get me to lighten up a bit.
Unfortunately, my friends were right. Much of my earnestness was the result of spending too much time at point One. Far from making me an 'evolved' person, it merely confirmed that I was trapped in the limitations of my type. So the Enneagram showed me my 'blind spot' – taking life too seriously. It showed me that for the sake of my personal development I had to have more fun and indulge in the vulgar pleasures of life!
So I made more time for fun, playfulness and hanging around with silly friends. Less time meditating, more time watching football and going to parties. I started to watch out for my tendency to criticise new ideas and to look for options instead of flaws. Gradually this led me to move away from exclusively focusing on the 'serious business' of psychotherapy and towards my other passions – writing poetry and coaching artists and other creative professionals.
This doesn't mean I completely changed my character – I can still work hard and strive for excellence in whatever I am doing. But it does mean I can let go of some of the seriousness of point One and experience more of the joy of life – 'all work and no play' is a very relevant saying for point One!
Observing your Enneagram type
Enneagram teachers typically recommend two ways of working on yourself with the Enneagram. The first is simply to observe your type – read the descriptions and notice when you find yourself compelled to act according to type. For example – if you are at point Two, notice when you feel compelled to help someone; if you are at point Seven, notice when you get bored and feel the need to lighten the mood; if you are point Five, notice when you feel the need to withdraw from the group and gather your thoughts.
Getting into the habit of 'just observing' yourself is a great way to learn about yourself, even if the observations can make uncomfortable viewing at times. One Enneagram teacher, Richard Rohr, says we haven't really 'got' the Enneagram until we have been humiliated – meaning that it is a humbling experience to realise how much of our thoughts, feelings and behaviour are conditioned by our type. On the other hand, this can also help us to develop compassion for ourselves – and for others, when we notice that they are also trapped by their type.
If you're feeling really brave, you might want to show the description of your type to a trusted friend and ask them whether they think it's accurate – pick your friend wisely, and be prepared for a few home truths!
Working against your Enneagram type
Let's have another look at the Enneagram symbol: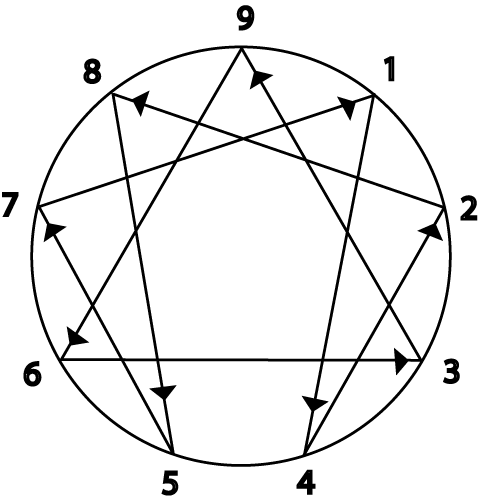 Notice the arrows that have been drawn on the diagram – these indicate the 'path of least resistance' in the face of the difficulties of life. So for me at point One, the path of least resistance leads to point Four – whenever I am overwhelmed by the difficulties of achieving my goals, I am tempted to retreat to Four and take on the less desirable qualities of that type, by getting depressed and lamenting the state of the world. If I move in the other direction however, against the direction of the arrows, then I arrive at point Seven, which is when I lighten up and start to embrace the positive side of life.
Challenges for each type
Each Enneagram type faces a similar challenge in moving 'against the arrows' in order to overcome the limitations of their type:
Point Two – can you move to point Four and focus on your own needs as well as others'?
Point Three – can you move to point Six and spend time out of the limelight as a member of the group?
Point Four – can you move to point One and adopt a more objective critical perspective on your own feelings and dreams?
Point Five – can you move to point Eight and put yourself on the line by applying your knowledge in the world of action?
Point Six – can you move to point Nine and set aside your suspicion by trusting others and celebrating difference?
Point Seven – can you move to point Five and stop being a butterfly by focusing on one option and seeing it through to completion?
Point Eight – can you move to point Two and set aside your own love of power by using your strength to serve others?
Point Nine – can you move to point Three and allow the spotlight to rest on you as you perform at your best?
Point One – can you move to point Seven and let go of your drive to achievement long enough to enjoy the pleasures of the moment?
Questions
Has there ever been a time when you've caught yourself 'responding from type' and been surprised at how easy it was to get carried away by automatic thoughts and actions?
Has there ever been a time when you've gone 'against your type' – either deliberately or because the situation demanded it – and discovered how liberating it can be?
Part 6 in Enneagram — a Brief Introduction will appear Thursday, July 5, at about this same time.
_____________
Mark studied the Enneagram as part of his training as a psychotherapist. He has used it for his own personal development and in his work with individuals, families, and organizations. Mark McGuinness' business Wishful Thinking, is a specialist coaching and training service for creative businesses such as design studios, ad agencies, film and TV production companies, computer games developers, architect's practices and fashion designers.
Thank you, Mark,
–ME "Liz" Strauss
Related:
See the complete series listing at Series: The Enneagram – a Brief Introduction