Lists
Have you noticed how much of our information has become lists — TV, magazines, the interwebs love lists? The ten most amazing, most marvelous, most something this or that . . . is ingrained in every media. Even children's learn-to-read books have started to favor lists. David Letterman has the best of them … click the image to check them out.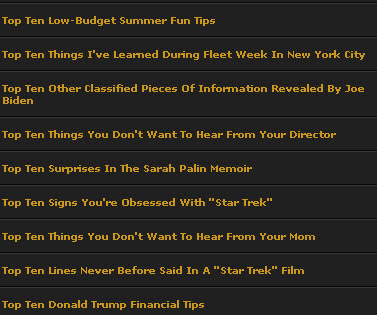 Here's a list that lists why lists have taken center stage in the world of content.
Lists are easy to build.
They don't require segues or transitional phrasing.
They don't require deep research or extensive fact checking.
Most lists match the average attention span of a bus ride, coffee break, or other infosnack.
Lists can be built in a fraction of the time a piece of depth might take.
Lists are very bottom-line oriented.
A quality list is . . . what you see is what you get.
Lists are the sound bytes of print. They're easy, quick, and often useful. The writer makes a point and readers move on feeling satisfied that they've heard something complete and whole — without too much work.
What's not to love about that? Hmmmmm.
–ME "Liz" Strauss
Work with Liz!!