by Guest Writers Suzie Cheel and Des Walsh
Today, on our regular Sunday visit to the beautifully pristine Fingal Beach, we noticed for the first time in the beachside park area this striking wooden sculpture of an echidna. The carving is of one piece with the supporting block, but there is no plaque or other indicator of who the artist is.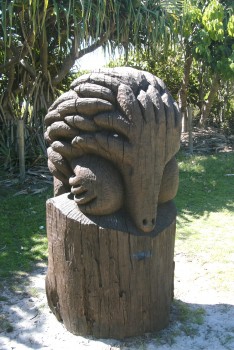 The echidna, also known as a spiny anteater, is – with the platypus – one of only two egg-laying mammals. It is found only in Australia and New Guinea (Indonesian provinces of Papua and West Papua, and the independent nation of Papua New Guinea). Despite its popular name and the fact that ants form part of its diet, the "spiny anteater" is apparently not particularly related to the true anteaters of the Americas.
Would we have discovered this echidna sculpture sooner if the story of the art and the artist were there for people to share?