by Guest Writers Suzie Cheel and Des Walsh
Surf carnival at Tallebudgera, Queensland, with surfboats ready to race. The surfboat, with a team of rowers and a sweep, used to be part of the basic surf rescue setup on Australian beaches. They were used when individual lifesavers on long reel lines could not get beyond the breakers for a rescue or for mass rescues.
These days they have given way to inflatable rescue craft. Now the surfboats are used for feats of strength and skill and have become the centre of a flourishing sub-culture within the volunteer surf lifesaving movement.
The surfboats were traditionally crewed by males only, when the surf lifesaving clubs were male only. There are now many all women crews, although we have noticed sometimes, when we've seen women crews practising locally, that they have a male sweep on board.
Man or woman, a surfboat is no place for the faint-hearted. There is an old joke that when surf clubs were choosing their boat crews they would line up the contenders and throw bricks at them: the ones who didn't duck got to be on the crew.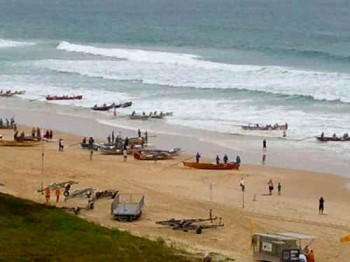 How do you choose your crew?