By Suzie Cheel & Des Walsh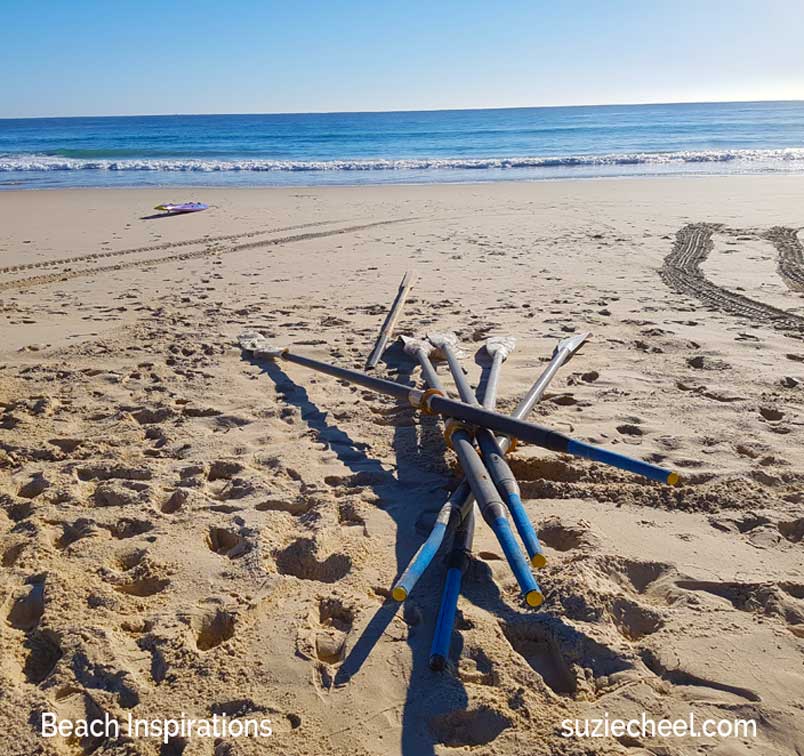 These oars are part of a great Australian story of the volunteer lifeguards (we call them lifesavers) who patrol surfing beaches around Australia every weekend in summer.
The oars are for the open boats that were traditionally used for rescues that were too hard for an individual lifesaver to get to. In today's inflatable boats with outboard engines and jet skis world, the boats are no longer used as part of the rescue apparatus, but happily the tradition lives on with clubs maintaining boats and crews and competing in the "surf carnivals" held around the country through summer.
Probably because the boats are not part of the basic rescue setup these days, they all need sponsorship to be bought and maintained. Typically, that seems to be by local businesses.
It's a thrill to see one or more of these boats, each with a crew of 5-7, two or three each side and the "sweep" steering from the stern, breaching the surf, sometimes elevated at such an angle you wonder if they are going to tip over and be swamped – and that does happen.
Until fairly recently crews were all male – as were the lifesaver patrols in earlier years – and the boat crews were traditionally pretty tough. In recent years there has been a big uptake of surf boat racing by women crews.
One joke about the selection of crews in older days was that contenders would line up and others would throw house bricks at them: the ones who didn't duck were selected.
In the photo here you'll see that in the daredevil tradition of surf boat racing the crew are not wearing any special safety protection such as inflatable vests or helmets.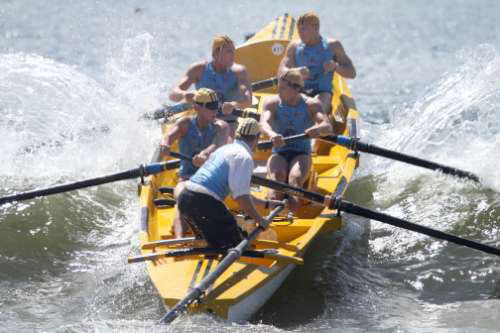 Men or women crews – seriously tough, seriously fearless, seriously dedicated. All volunteers devoting their weekends to saving lives. Inspirational? We think so.
More about the boats here. And about the Australian Surf Life Saving Association here.
Image credit: Alexandra Headland Colts Manipulate Shore Break in a surf carnival: by DonJeffFranky, Wikimedia Commons, CC BY-SA 3.0
Authors' Bios: Suzie Cheel is the Heart Whisperer at Suzie Cheel You can find Suzie on Facebook and on Twitter as @suziecheel. She also shares her inspiring Beach Notes here on Sundays.
Des Walsh is a Digital Disruption Navigator at Des Walsh Dot Com You can find Des at LinkedIn and on Twitter as @deswalsh