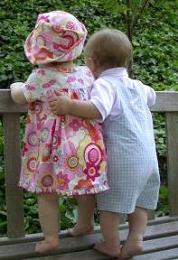 An Ode to Successful Blog (and Liz)
With such wonder two years ago I found
A New Blog that was friendly and conversations abound
It was inviting and different in this new place
The Blogger wanted to know each and every new face
As each new comment and bit of banter grew
The conversation, it wandered around and started anew
A bright idea Liz had one Tuesday Night
"Open Comments!" she said to everyone's delight
From there, as before, as time went on
Another idea Liz had, it was S.O.B.con!
The year was '07 and all were invited
including me, and I was just so excited
All the new friends I made that weekend
Helped improve my Blogging to no end
And a nudge in business, referrals I guess
Came about from my new friends all, no less!
It depends on how you measure Success
But my new friends 'round here have given me
Happiness!
Happy Blog B-Day Successful Blog!
and Liz, Just Stay The Way You Are… (hear the song?)
————————————————–
Thank you, Joe.


The party is Oct. 24th!
Come for the surprises! Bring a link to your success!!!