It was all fun and games until my purse got stolen.
We were on a great vacation, and visiting the Arizona Memorial on Oahu. In the parking lot, there was a sign that warned "High theft area, do not leave valuables in car." So what did I do? Put my purse in the trunk of the rental car and went in to see the museum. A couple of hours later, you can guess what happened. Vacation ruined, checkbook and credit cards gone. Prescription glasses gone. Plane tickets home, gone.
It was a supremely painful lesson, but I took heed. Being smart about my personal security moved up several notches in my priority list.
Do you see the daily warnings about changing your online passwords frequently, not using your pet's name, remembering to change the default? Are you taking heed?
The proliferation of sites that require a login has forced us all to find ways of remembering a tornado of passwords.
And it's not fun.
Yes, there are good services like LastPass and 1Password that will help you generate random passwords and retain newly created logins. But still, not fun.
Enter a new service called Clef.
For now, it's primarily a free WordPress add-on. Once you download the app to your smartphone, it allows you to log in to your WordPress site by waving your phone in front of your computer screen.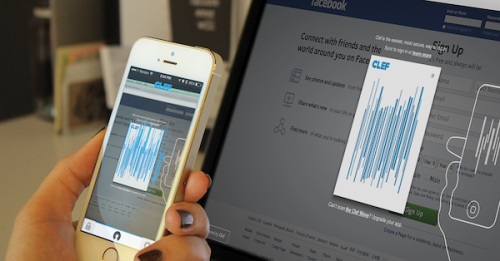 When you click "sync" on your normal login page, Clef generates a cool animated signal wave. Open Clef on your phone (there's a PIN) and it generates a similar animated wave. Hold it up for a second, and it syncs, giving a haptic buzz when it succeeds. You can choose to stay logged in permanently, or set a time frame. Clef will log you out automatically when the time runs out.
What if you lose your phone? Clef has a remote "lockdown" key. Just let them know the phone isn't in your possession, and they will disable Clef on the phone.
Looks like the team at Clef is expanding into payment systems and additional platforms (it works with Hootsuite and a few others right now).
The only drawback I see is that you currently have to manually open the Clef app on your phone. It would be super cool if the mobile app automatically launched when you clicked login on the desktop screen.
Give it a spin and tell me what you think! What are you currently using to help you deal with your tornado of passwords?
Disclosure: I have no affiliation with Clef, and received no consideration for this post. It represents my unvarnished opinion.