From the Heart
Words tell us how to . . . how to be beautiful, how to fall in love, how to make money by working online. Words try to move us to be happier, be greener, be more active in someone's cause. Words us connect with each other. Words appraise us, explain us, and help us describe who we are. Words are how we find out what we need to know.
Yet there are far more words to read than there is time.
We can think and write. We can craft our sentences to be clever. We can make sure that each part is factually, structurally, gramatically correct. But clever and accurate only go so far in satisfying readers. If we want our writing to resonate long after, our words need to come from the heart.
How to Write Intelligently from the Heart
Intelligent heartfelt writing is respectful. It serves minds and hearts. It strikes a balance of logical thinking in the context of meaningful words. Here are some tips on how to bring together the best of your head and your heart when you write.
Know you want to say Distill your message down to one sentence.
Decide why you care about it. If you don't care about what you're saying, why should I?
Use simple words to describe your experience or argument. Choose words that you would actually say.
Write for an audience you respect and care about. Love your dissenters and detractors. Doing so will give your writing life and depth.
Write the whole piece entirely before you edit. A message from the heart still being formed won't survive the scrutiny of a brain.
Revise it twice. Read once for logic and sense of what you're saying. Read a second time — this time aloud — for the tone, voice, and words you're using to say it.
Be willing to put yourself into what you write. Be authentically you. Show us what you see.
Writers who capture our attention share the experience of who they are. They connect with our minds and with our hearts. Great writers blend information, thoughts, and opinions with a light touch of humanity. It's the in the humanity that we see ourselves. Head and heart together in writing for love, for business, for education, for any purpose make meaning in a way that intelligent words alone cannot.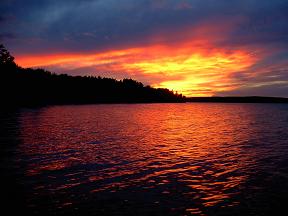 It's the heart of light in this photo that makes this one sunset unforgettable.
How do you recognize someone who writes with heart?
–ME "Liz" Strauss
If you think Liz can help with a problem you're having with your writing, check out the Work with Liz!! page in the sidebar.