Walking the exhibit hall at the Consumer Electronics Show in Las Vegas is an awe-inspiring experience.
Look! There's CNN's camera crew. Look over here, there's a drawing to win a new car! Come over here, there are hovercrafts you can pilot yourself. And Debbie Gibson is performing in this booth…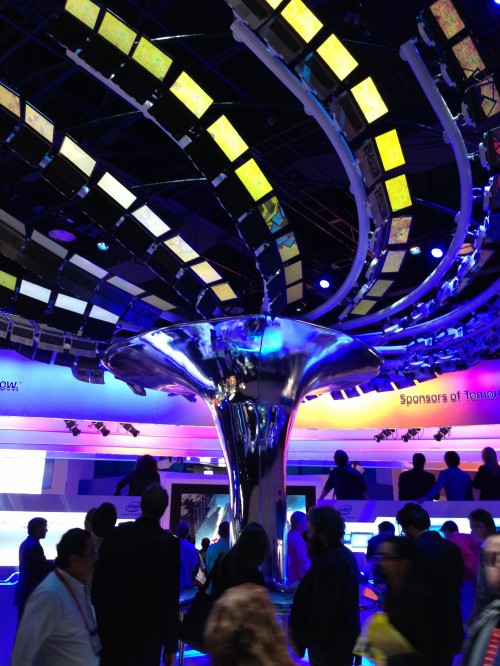 The exhibits are huge, the keynotes are standing room only, and conference sessions are elbow to elbow. From what I've heard, SXSW is heading in the same direction…possibly too big for its own good.
That's why I like to focus on the smaller, more intimate conferences, like SOBCon (back in 2014), Social Slam, or the upstart ConvergeSouth. There's still plenty of room for learning new stuff, meeting new people, and forming quality relationships. There's less swag, and more value for your money.
Why Smaller Conferences are a Better Investment
You can focus on a conference that dives deeply into your niche. Rather than a huge, generic marketing conference, try one that focuses on content marketing.
Have better conversations. When you can actually hear yourself talk, you can have those great hallway discussions that often turn into long-term relationships. With fewer people milling around, you have a better chance of having more than a quick chat.
Get access. Some of the smaller conferences pull in heavy hitter speakers, and you can have much easier access to meet them. Especially if you spend the little bit extra for a VIP pass.
Enjoy the adventure factor. Sometimes things are just more loose at a smaller conference. You might find yourself in a dive bar at the after-after-after party building memories with people you only knew online. Not that that ever happened. I'm not allowed to say.
Anticipate the "let's put on a show" factor. Smaller conferences often have a hardy band of local volunteers who are shouldering the burden of hosting. It's a fantastic opportunity to offer your help with the little things. If a speaker flakes out, you could be there when you're needed to jump in (I've seen that happen). If the audio-visual hookups are wonky, you can jump up and troubleshoot. Earn the eternal gratitude of the conference team, and make some friends.
Spend less money. The newer, smaller conferences are cheaper, and sometimes even the peripheral expenses are lower since they are held in smaller cities. A hotel room in Greensboro, NC is much more affordable than one in New York City. And do I need to mention food costs? At a small conference in Portland, I had the most amazing grilled cheese sandwich for lunch from a food truck. Cheap and mind-blowingly delicious.
Are you ready to pack your bags? What are your favorite smaller conferences?