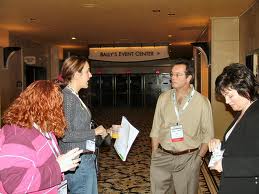 Everything's online nowadays, meaning people can easily connect via social media and phone conferences.
It's easy to think that real-life conferences are a thing of the past, but actually, it's the exact opposite. Conferences are important for small businesses to attend more than ever now. Basically, there's no replacement for meeting people in-person.
With that in mind, here are some reasons you should not shy away from conference opportunities:
To network – While you can network online, there's nothing like networking face-to-face. Face-to-face networking allows you to have a long conversation with someone, get to know someone on a more personal level and get to know those that are presenting. You may forget an email between a business associate, but you'll never forget a face.
To break up your routine – Stepping outside the box allows you to think outside the box. By breaking the monotony of your day to day routine, you're helping get your creative juices flowing. You may come up with a new business strategy, think of a way to better your product or connect with someone to market with. Attending a live conference is one of the best ways you can break up your routine.
To learn from others – Even if you consider yourself an expert in your field, you can always learn more. You may pick up something as big as a new strategy for your business plan or something as small as a new marketing technique. Either way, you're guaranteed to learn something that will help your business by attending a face-to-face conference.
To meet your competitors – By attending a small business conference in your field, you'll meet business owners just like yourself, i.e. your competitors. This is your chance to mingle with those that are more successful then you. You can ask questions and gain insight in order to improve your business. It's also your chance to share your knowledge with businesses either just starting out or not as successful as yourself. You can present yourself as an expert in your field.
To relax – That's right, attending a business conference can be a great way to relax while still working and improving your small business. It's the best of both worlds. Come a day or two early or stay an extra day to explore the city the conference is in. Don't feel obligated to attend every conference, either. If you wish to sleep in, sleep in. If you want to catch up with an old friend who lives in that town, go! Think of it as a mini-vacation where you get to have fun while still growing your business.
If you're worried about travel expenses, most small businesses can write them off come tax season.
You should be able to write off food and hotel expenses, as well. Make sure to check discount travel sites for deals on airfare and consider splitting the cost of a hotel room if you know someone else that's attending.
Small business conferences take place nationwide throughout the year.
Find one in your field, book your flight and go. Make the most of the experience by having fun, being social and proudly sharing what you've accomplished with others. More than likely, you'll want to attend conferences on a yearly or semi-yearly basis.
Like was stated earlier, nothing replaces face-to-face interaction that a business conference provides.
Photo credit: affiliatetip.com
About the Author: Sarah Brooks is a freelance writer living in Glendale, AZ with her husband and two daughters. She writes on cheap Vegas hotels, travel and small businesses.