This post is a sponsored post on behalf of SEARS via Izea.
The opinions, memories, and words are mine.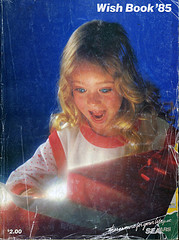 Every year when I was a kid, my mom would sit us down with the Wishbook from Sears. She'd have us make list of what we wanted for Christmas…. The tradition came with a solid promise that at least one item on each list would end up under our tree. My list kept me busy for hours — busy dreaming, and wishing, and learning the life skill of filling out order forms.
When I got with this special assignment, Would I be part of the SEARS "Don't Just Give a Gift, Grant a Wish" program? You can bet that Wishbook was the first thing I thought of — the miles of lists and the piles of wishes all through my childhood.
The request was simple: I would get a $500 gift card to buy whatever I wished. Then I would go to Sears.com to put together three $500 gift packages — so a lucky reader will get to choose the one they wish. Two cool complicated, positive problems to solve. Who wouldn't go for chance like that?
More about my wishtory in a minute.
Towels, Socks, and Underwear
Ah walking into the the Sears Flagship store at State and Madison in Chicago — It was like walking inside the Wishbook for real. I met @AmyDerby, who brought her camera, at the coffee shop in back. Amy and I fueled up on coffee. (I had a caramel latte.) Then we got a cart, looked around … wandered aimlessly … stopped to look at the "Chipmunks Movies," and talked about passing lyrics to Chipmunks songs with @Starbucker via Twitter. Not many folks know the words anymore.
Shopping is more fun with someone you like.
We walked on overwhelmed by the clothes, jewelry, and beauty products. They're nice, but not what I'm after. We didn't really know where to look first. How do you wish when you're surrounded by so many things and your holdiay shopping is already done?
Don't you just love the towel all lined up that way? I never buy any because it makes me want all of the colors. Where would I put them?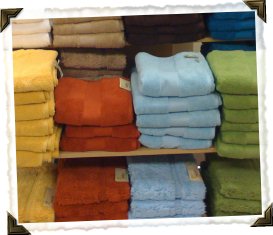 Luckily I had asked Grandma whether she had one more holiday wish I might grant. She said, "Do something for yourself, but remember — get socks and underwear." So we over to the socks. We played a bit with the multi-toed muppet socks. Then I picked out three pairs of dress socks for meetings … 3 pairs of socks for $10 …
Time for a new plan, this rate we'd be there until 2020. Underwear was out.
Wishing for a Good Night's Sleep — Pillows and More!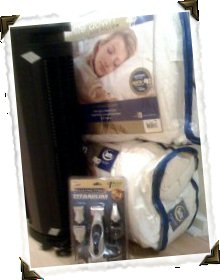 My wish was a good night's sleep. Nights are short in my life. Sleep is precious.
Down the elevator, past the luggage, through the rug aisle, straight for the pillows we went. Big, beautiful, fluffy pillows. The best white down pillows were what I was after. My husband and I hadn't bought new pillows this century. Now we were talking wishes happening — four of them.
For better sleeping, my husband wished for an electrostatic air filter — fresh air in a high rise building is a wish worth having. On the way to the that filter, we stopped and got him a hair trimmer he'd been looking at the night before. It took two seconds. When we said we wanted, Iza, the woman who helped us with the pillows, knew exactly where to find it.
We'd got those wishes, but one wish was still whispering in my head. We were off to electronics.
That's When We Met Dick Tracy
We saw iPod accessories, brand name computers, and a display of Flip Video cameras (already have one and love it). I was in blogger heaven.
I was headed to a real camera to replace the grainy iPhone photographs on my blog. Problem is, I didn't know what I wanted. I called @BeckyMcCray who advised in a flash — pun intended. Now I could talk to the man — and he was the man — Richard Tracy. He answered every question I asked — and a few that I didn't — about my new Olympus FE-360 camera. Amy took our picture while we talked. That's it up there.
Boom! I had a camera I knew would make my pictures look good.
That afternoon Amy and I had a meeting planned. So we took a few more pictures and I talked to the guy who would be holding my stuff until the next day. Amy took care to see that details were looked after in fear that I'd get back and my packages wouldn't be there.
We took light stuff with us. Well, we got the camera at merchandise pickup in 1 minute and 40 seconds. Gosh, they were nice. One person brought the camera to us, but three people found reasons to smile.
The whole shopping adventure cost $558.81 — and $57.32 of that was taxes.
One Hitch, But a Happy Ending
The next day, I returned with my husband to pick up the huge pillows and air filter. A manager on the elevator recognized me and said "Hi!" My husband was impressed. Unfortunately, the guy who said he'd be working when I returned wasn't there and my stuff wasn't either. No one seemed to know where to find what I'd bought and I had a meeting in an hour.
Special Thanks to Jessica, the third floor manager, who came to the rescue. She problem solved by thinking through who might have moved it and where. She realized that my stuff was placed in layaway overnight. Jessica turned around an almost unhappy ending to what might have been a perfect experience. Her thinking got me to my afternoon meeting just in time with everything. No harm, no foul.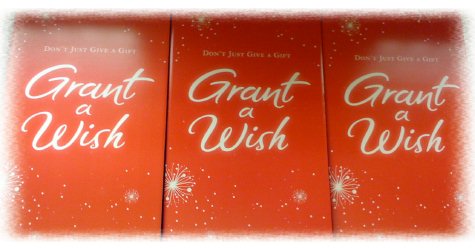 Granting a Wish for You!!
The second part of this cool assignment was to put together three Grant Wish Packages that I thought a reader here might enjoy. That was pressure …
ENTER TO WIN!! A $500 WISH PACKAGE Giveaway!
The second part of this sponsored assignment is where I hope your own wish comes true. I've put together three Grant a Wish packages. (Well, @Tojosan and my husband helped me with them.) The winner will receive the package he or she selects. You'll find the official rules here.
The Three Wishes I Designed To Choose From Include
Chicago DVDs Wish

Toshiba 10.2″ WIDESCREEN PORTABLE DVD PLAYER
Sears item# 05799414000 Mfr. model# SDP101S $349
And 11 DVD Movies all Made in Chicago

The Dark Knight DVD
(Widescreen, Special Edition, 2PC) $22.99
Wanted
(Widescreen) $20.99
I Robot DVD
(Widescreen, Special Edition, 2PC) $14.99
The Blues Brothers
(Widescreen, Anniversary Edition, 2PC) $14.99
Ferris Bueller's Day Off
(Widescreen, Special Edition, 2PC) $9.99
Road to Perdition
(Widescreen) $7.99
Risky Business
(Widescreen, Anniversary Edition, Deluxe Edition) $14.99
The Untouchables
(Widescreen, Special Edition, Collector's Edition) $9.99
Proof
(Widescreen) $14.99
Chicago
(Widescreen) $9.99
Wayne's World
(Widescreen) $7.99
Cool Tools Wish
Images, Music, and Words
How to Enter to Win a Wish!!
You can enter via blog comment, tweet, or blog post.
To Enter by Comment: Leave a comment here with the name of the wish package you would like to win.
To Enter by Twitter: Tweet out the following message: "RT @lizstrauss please grant my wish to win the #Sears (package name) – tweet to win your own wish http://urlbrief.com/1aba4d"
To Enter by Blog Post: Write a post about the contest and linking back to your post. Be sure to leave a trackback or a comment linking to your post.
Good luck with the contest, and I want you to win a wish too. I got a chance to meet some wonderful people, to remember what wishes are about, and how fun they can be.
Don't Just Give a Gift, Grant a Wish — and if you get a chance, tell a wishtory of how someone made a wish come true for you.
And remember there's only one rule: BE NICE!
My Wishtory
Some cool kids — real celebrities — are telling their wishtories over at Sears.com
Mine is simple. You're looking at it — my blog.
My Dad didn't give me a chance to visit his saloon … he showed me the meaning of community.
Every holiday card I write brings back thought of those wishbooks, and I sign most with hope that all of our wishes come true. This year SEARS didn't just give me a gift, SEARS granted me a wish of my childhood … one that I'd never, ever that would come true. That's me, sitting with the lighted reindeer, thinking I'm probably not the right age for next year's Wishbook cover, but knowing I have the feeling they're going for.
Thank you, Amy, for coming with and getting these pictures for me.
If you want to know more about Sears Gift Cards, that's here.
The preceding was a sponsored post. For more information about the sponsor SEARS or the contest see Izea.
It's the spirit of the season!! Thank you.