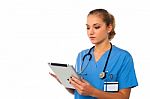 Are you looking for a fulfilling career that will help you to grow both personally and professionally?
Then healthcare could be just the career choice for you. The healthcare field is always growing and diversifying, offering ample opportunities for those who want to move into the field, and making it a choice worth considering if you're looking to change career or start something new.
What are some of the reasons healthcare is a great career choice going into 2015? And what skills do you need to succeed in healthcare?
Healthcare Is a Growing Field
As the article "6 Growing Health Care Careers" points out, healthcare is a growing industry and a great choice if you're looking for a career where you are almost guaranteed to be in demand.
According to the Bureau of Labor Statistics, healthcare practitioner jobs are expected to grow by 21.5 percent, and support occupations by 28.1 percent, by 2022. That's twice as fast as the average for any other occupation.
Healthcare Offers Many Benefits
As well as being in demand, a career in healthcare offers numerous other benefits:
Good pay and benefits – Healthcare careers typically come with an attractive salary, often featuring on lists of well-paying jobs, and usually offer great benefits such as dental, medical, insurance and paid vacation time to boot;
Variety – If there's one thing that can be said for certain about healthcare, it's that there's never a dull moment. As well as offering exciting work, you'll be able to choose from a wide range of working environments;
Career choices – Healthcare careers offer plenty of opportunities for moving upwards and growing your career and your salary. The number of distinct careers in the healthcare field is staggering, from doctors and nurses to transcriptionists, pharmacists, radiologists, medical billers and much more;
Free education – Many healthcare employers offer continuing professional development and even on the job training for new members of the field, meaning you can continue to learn, grow and expand your skills;
Fulfilling – A career in healthcare means meeting with and helping people from all walks of life. If you're a people person who enjoys contributing something positive to others, healthcare is a good career choice for you.
Skills That Will Help You Succeed In Healthcare
Even before you start filling out your admissions form, you might find you have plenty of transferable skills that will help you build a good healthcare career, be it in family medicine or another area of medical practice.
Here are some skills that are an asset for anyone working in healthcare:
Time management – Many healthcare careers are fast paced – good time management will help you excel;
Customer service – You'll be dealing with the public a lot, so the ability to make the people you meet feel valued and looked after is invaluable;
Compassion – From colleagues working under pressure to nervous patients or worried relatives, the ability to show compassion and empathy will make you an excellent healthcare practitioner;
Good communication – You'll be working with people from all walks of life and communicating at all levels, so good communication skills will be a great strength;
Calmness under pressure – If you can stay calm and help others feel supported when things get busy or stressful, you'll be appreciated by colleagues and patients alike.
If you're ready for a career that is exciting, fulfilling and full of interesting opportunities, healthcare could just be a healthy choice for you.
Photo credit: Image courtesy of stockimages at FreeDigitalPhotos.net
About the Author: Tristan Anwyn writes on a wide variety of topics, including social media, SEO, healthcare careers and distance learning.