By Katherine Crayon
You have created the blog of your dreams. You regularly update it with valuable content. Everything is perfect. Except…
Except the readers don't come.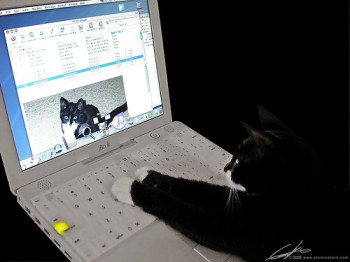 No comments, only a handful of shares and tweets — and that's all. What went wrong? Think you need to perfect your writing skills? Actually, it's not about the way you write. It's all about the way you promote your content.
The web is flooded with thousands of recommendations on how to attract users to your website.
It's important.
It matters.
The Internet was created to let you share your thoughts with millions of other people — it's meaningless if they don't read them. That's why today we'll concentrate on the ways to get people to actually read your content.
If you think that stuffing your posts with keywords and optimizing them for search engines will draw armies of followers to your resource, you are mistaken. Your blog will undoubtedly rank higher in search results, but will people come back?
The way people perceive your blog posts should be your highest concern. Combine catchy writing, impressive design and some basic ways of promoting content (described in this article).
Success will follow.
Written vs Visual Content
There is a general misconception that people ignore online content. They do read it. However, the way they perceive online data has changed a lot. Content marketing has generally revolved around written data, though more recently, visual content has greater appeal.
Modern users prefer skimming to reading. In order to make them actually read your post, you have to grab their attention (with a relevant image, video, infographic, etc.).
Statistics show that blog posts featuring at least one image are more popular among web users, which results in more shares.
Relevance
Will you read a post on a topic you're not interested in? Most likely, you will scan the article and leave. As a rule, people surf the web searching for content that meets the basic criteria of relevance:
Publish content that coincides with the current time and season. For instance, will you read about Christmas on July 4th? Do you find it relevant posting about winter vacations in summer? Relevance has its own chronological order.
Consider your readers. You will hardly be able to attract artistic people to a chemistry blog. Each web resource has its own audience. Working on your blog, think about the target user who will most likely enjoy your content. Specializing on something particular will help you look like a pro and build trust with ease.
Skimming
Users will scan your posts first to decide whether the content before them is relevant. If they come up with some points that look relevant, people will likely stay and read the entire post word-by-word. How to organize content in such a way that users will easily find exactly what they need?
Here are several points to consider:
Headlines are the first thing people will pay attention to. The more relevant and to the point they sound, the more likely it is that readers will come — and stay.
Subheads help give users a quick overview of the things you discuss in the post. Once again, if they find these relevant, chances are they will read till the end.
Text formatting helps to highlight the content you want to draw skimmers' eye to. Remember that highlighting too much content in bold or italics will equal highlighting nothing. Put emphasis on the key points so that users will quickly pick them out.
If skimmers find your headlines and subheads relevant, they will move to bullet points and numbered lists that will help them with decision-making.
Let People Choose
Readers' tastes differ, so if you want them to keep returning to your blog, you should provide them with several forms of content to choose from.
We have already found out that people are more attracted by visual rather than written data. However, there are many web users who prefer reading detailed posts word-by-word, without missing a single thought.
Try to publish different forms of content through multiple channels and see what works best. Diversify your content marketing with images, videos, and infographics to let people choose what they want. And don't forget to make all of your content look good no matter what device is used.
Post Regularly
Publishing content on a regular basis will make people come back. Though it requires significant and sustained effort, this is a proven way to build up a following. Whether you are posting 10 articles a day, three posts a week or simply update your blog with something new once a month, doing this consistently will increase traffic to your blog.
Leverage Social Media
With so many users learning about the latest news and valuable information in social media, including 'Share on Facebook' and 'Tweet This' buttons will make it much easier for your readers to spread posts online and draw new visitors to your blog. The easier you make sharing data, the more likely people are to do so.
It doesn't require much time and effort to add social share buttons to your site. Make this one-time investment and you will reap great rewards.
Communication
Communication always matters. Make sure you respond to all of the comments left on your blog. Your readers put an effort into leaving their feedback under your post, so don't miss an opportunity to show how much you value this. Communicating with people on your blog, leaving comments on other web resources, as well as participating in discussions on social media platforms – all this combined will show how much you care.
Final Words
When it comes to content marketing, always write with personality.
Engage your readers by sharing interesting posts on a regular basis and starting a debate online. Keep the writing short and sweet, and never forget to refresh it with some relevant photo or video content.
Are you an experienced blogger or just plan to start your web resource? Which of the aforementioned techniques do your find effective? Maybe you know some other proven ways of how to blog effectively. Share with us in the comments below.
Author's Bio:Katherine Crayon is a copywriter with a fresh voice, reporting on tech news and all aspects of the web design industry. Meet her in person on Google+.
Photo Credit: atomicshark via Compfight cc