By Jessica Davis
Content creation has been identified as one of the biggest challenges that marketers face. Some companies work with in house teams, while others work remotely with freelancers or agencies to create their content. Regardless, managing everything from planning to approval requires some coordination, and the process can be frustrating. Low content productivity can affect your company's content output and slow down your content marketing efforts.
Check out these collaborative tools that can streamline the process and boost your content productivity.
Trello
As a content strategist, you have to oversee content production from start to finish. Managing that job is a nightmare, with dozens of files for different clients being passed between writers, reviewers and SEO analysts. A hangup in any stage can cause a drop in content productivity. You can use a collaborative content management system to add some structure to that chaos. That is where Trello comes in.

Creating projects
You can add a new project by creating a card and labelling it. Once you have invited team members to join your project board, you can assign projects to them by tagging them on cards.
Managing projects
You can set a deadline for each project and hold that person accountable by commenting on his/her card, when the project is overdue. You can move a project between phases (say topic – in process – to be reviewed – to be posted).

Reviewing content
People working on projects can upload files on their cards on completion. You can view files on cards and share suggestions via comments or make changes to the files and upload them again.

You can create an account for anyone and invite them to your project board for collaboration. By shifting your team to the app, you can oversee all your projects, virtually, in one place.
DrumUp
As a social media manager, you have to work with copywriters, graphic designers and brand strategists to create your content. Even if you manage your brand's social networks by yourself, doing it on more than one social media page can be tough.
With an app, you can manage multiple social media accounts with ease.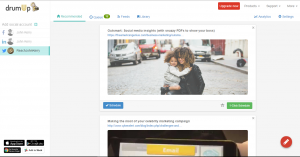 Collaborative social media management
You can add team members and give them different levels of access to the content stored on your app dashboard. You can provide them with access without having to giveaway your social media account passwords and review all the content they create before it gets posted.

Managing original content
You can store your content online where it is easily accessible in a content library and schedule content from there, to be posted on your Facebook, LinkedIn and Twitter accounts when needed.

You can also view the queue of your scheduled content in calendar form to get a sense of how many posts you have set for each day and what the overview or general theme seems to be.
Curating content
Your industry probably has great publications and experts who create brilliant content on a regular basis. You could curate that content for your social media audience, to show them that they can trust you with content in your niche.

You can also use the @mentions and #tags that the app recommends with suggestions to build powerful relationships with influencers in the industry, so you can collaborate with them for content.
GetResponse
As a content marketer, email marketing is probably an important responsibility. If you are working with a large team for multiple clients, or working for a large organization globally, you need to collaborate on concept, content and execution.
That's where GetResponse can be used, to make collaboration effective.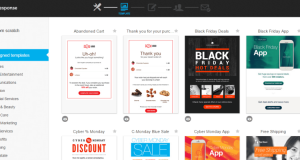 Collaborative email marketing
You can provide users different levels of access to the company account and overview all of their content before it gets delivered to your client base. You can also give read-only access to certain people of required (reviewers or clients).
Creating newsletters
If creating newsletters is only a part of your responsibility, you can streamline the process by using built-in templates and stock images.
Optimizing newsletters
If mobile view is a priority (and it should be), you can preview your designs in mobile view before scheduling it to be sent to your email database.
You can also personalize emails by inserting the custom name field wherever necessary in your email text.
If needed, you can also automate the responders to ensure that your email recipients don't feel ignored when they write back to you.
Finally, if your email database is diverse, you can target your content better by segmenting your email lists by custom data, geographical location, subscriber engagement, date and more.
You can also provide teammates access to analytics so they can stay in the loop about email marketing performance.
WorkflowMax
If you work for multiple clients and collaborate with a team of people responsible for the content production, managing trivial but crucial tasks like proposing quotes and tracking payments can be a hassle that takes focus away from the content.
WorkflowMax is an interesting means to solving that problem and streamlining client communication.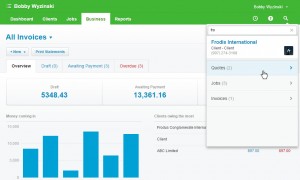 Customizing client interaction
Your brand is a promise of the content you intend to deliver. You can make your brand a part of all the communication between you and your clients by enabling automated insertion of brand insignia on quotes and invoices.
Storing project details
Manually forwarding data between teams can be a cumbersome task to manage each time a client comes on board.
You can use the app to store and share account details like emails, documents and other information where your team can access them.
Assigning and tracking projects
You can assign projects from the main dashboard, set deadlines and track them. You can also automate reminders so your teammates receive emails to notify them of projects that are past their deadlines.
The tool helps you see who's working on what, so you can allocate your resources better. You can also monitor the budget being spent on each project and analyze which projects earn you most revenue.
The dashboard can be accessed from anywhere, making it easy to work on the move.
You can also provide clients access so they can follow progress and add their comments on the work that is taking shape.
MailShake
As a content marketer, emails sent to clients aren't the only ones you have to worry about. You probably also send emails for guest post pitches, content promotion, link-building, co-marketing partnerships, lead generation and PR pitches.
Managing email campaigns can be a challenging task. That's where MailShake can make a difference.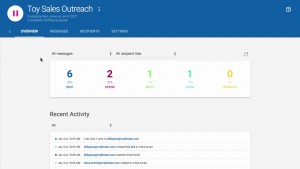 Collaborative email management
You can create an email management team and provide certain people access to edit, pause or stop your campaigns.
You can also set long-term campaigns on an automated loop to avoid doing it manually every single time.
Creating email copy
You can enter your deliverables into the app to generate copy for your emails. Further, you can store drafts for each type of email that you intend to send out.
Following up with emails
Sending an email is just the first step – you have to follow-up when needed and ensure that you get through to the person you're trying to reach.
You can set up reminders to follow-up with certain people based on triggers. Set up alerts to be notified when someone clicks on a link, or no reply is received to an email within a previously decided interval of time. You can rely on those reminders and relieve yourself of the burden of remembering too much.
Author bio
Jessica Davis is a Content Writer at Godot Media, a leading content agency. represents Godot Media. Her areas of interest include social media and content marketing, science and fashion.
Featured image via Pexels.com