By Lisa D. Jenkins
I'm building my backpack gear set and this past weekend I bought a sleeping bag. Not a regular "throw something on the floor because we're out of beds" type bag, but a serious "keep me warm in the wilderness at zero degrees" type bag.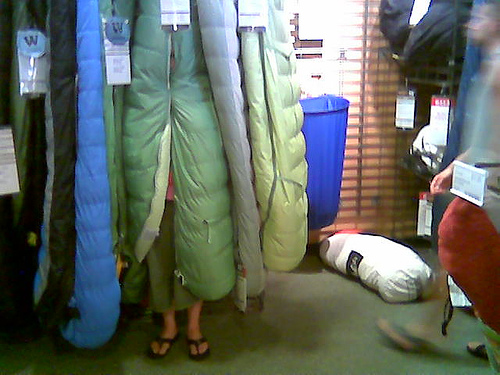 I had no idea where to start, so naturally I began researching on the internet. I learned all kinds of important buzz words: R factor, temperature rating, fill power. These words were everywhere, the implication being they were important and should be factored into my purchase decision. The issue was that I didn't understand HOW to factor them in.
I'm a newbie.

Armed with my fledgling knowledge I went out into the brick and mortar world to find someone with expertise who could help me choose the right bag.
My first stop was a well-known big name outdoor store. The clerk was mostly friendly but seemed a bit exasperated when I used the words I'd learned during research. I lined out how I expected to use my bag, explained I'd be backpacking with it and asked her to point me toward likely contenders and help me choose one.
She walked me to a rack of hanging bags pointed to one end and said, "The women's bags are at this end. Each one is tagged with specs you can use to figure out which one you want."
Tags. So basically, reading – like I'd done on the internet – before I walked through the front door of this store with the hope that an educated human could help me? Not what I expected.
We left and headed to another outdoor store. Where I hit paydirt.
The owner spent almost an hour and a half explaining everything I needed to understand about sleeping bags so I could choose exactly the right bag. I learned that, for me, loft was more important than fill, and that fill was more important than temperature rating. I also learned that fill power is misleading and that temperature ratings are incredibly subjective.
Then I looked at tags on roughly a dozen bags, and this time I understood how to filter the tag information. I took an hour getting in and out of two bags and deciding which one I wanted. It's a bit heavier than I'd expected, weighing in at just under 3 pounds, but I am fully confident it's the right bag for me.
On our way out, I realized the store had been closed for an hour and half. I was so embarrassed. I began apologizing and the owner told me no apologies were necessary. Then he said, "I don't want you to be sorry about the time you spent here. That time let me give you the full value of your purchase. You let me teach you how to make the right choice for you and that's important because you're unique and your needs are unique. This type of sale is one of my favorites."
And that's when it hit me.
Buzz words are like sleeping bag tags.
We all use them – sometimes with irony and sometimes in earnest. What those of us who use those words in blog posts, presentations and website copy need to remember is that buzz words serve us, the holders of knowledge, not the customers who need the knowledge.
Customers come to us because they need our product or expertise. Tossing a bunch of jargon at them from a landing page or slide deck doesn't let us speak to their unique needs. Nor does it help them truly understand how we're the best fit for the gap they need to fill.
Get around the buzz words.
Every website has copy and the use of some words is inescapable because things like SEO matter. But there are ways to go beyond the buzz words and help customers feel confident in choosing our services or products over those of another vendor.
Follow the buzz words up with simple language that demystifies what you offer.
Install live chat on your website so prospects can communicate with a human.
Respond to inquiries with a phone call instead of an email.
At a certain point, our customers need to have some questions answered. They might not even know which questions to ask. It's our job to help them learn what those questions are and how to prioritize the answers for themselves so they can make an informed decision.
When we give customers the full value of their purchase, they'll convert with confidence.

Author's Bio: Lisa D. Jenkins is a Public Relations professional specializing in Social and Digital Communications for businesses. She has over a decade of experience and work most often with destination organizations or businesses in the travel and tourism industry in the Pacific Northwest. Connect with her on Google+