A Weekly Series by Teresa Morrow of Key Business Partners, LLC
I'm Teresa Morrow, Founder of Key Business Partners, LLC and I work with authors & writers to manage their book promotion and social media marketing. As part of my job I read a lot of books (I love to read anyway!).
This week I will be highlighting two books; one author I am currently working with '#PRIVACYtweet' by Lori Ruff and one book on the social media Amazon list 'Share This!' by Deanna Zandt.
The books I discuss in the Social Media Book List Series will cover a range of topics such as social media, marketing, blogging, business, organization, career building, finance, networking, writing, self development, and inspiration.
'#PRIVACYtweet:Addressing Privacy Concerns in the Day of Social Media'
by Lori Ruff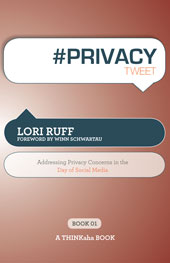 "Whatever you believe about online privacy and its implications on your life and business, this book will help you better understand what you need to believe."
Jay Deragon, @JDeragon, Coauthor The Virtual Handshake, The Emergence of The Relationship Economy, and http://www.relationship-economy.com, one of the top 150 blogs in the world
"Very relevant, entirely timely, proper perspective: all the elements you want when you're going to learn."
JoshuaABarnes, @joshuaatbarnes, Director of Information Technology, Socialmatica, Inc.
Here are a few of the tweets from the book:
#2 You can't hide in The Cloud. If you're going to participate in the online community, do it with deliberation & thought.
#13 Being online is like being a player on a professional football team. You know you're being watched. Act like it.
#15 Business professionals need to be on LinkedIn and engaged. Share only what you would at your office.
#35 Bullying is not only alive and well; it is more common than you'd hope. Call out cyberbullying: help those attacked.
#48 Did your computer come with security software? Use it, keep it updated, run it on schedule. It will
help save your A$&.
#76 Each individual has sole responsibility for posts published in any form of online social media. Via @maltaee
About the Book*:
Concerns about privacy are not new. Since time immemorial, we humans have valued and guarded our privacy, often jealously or violently. It is therefore no surprise that privacy online is of such great concern in our connected world. Today, when we conduct so much of our life online–bank transactions, credit card payments, transmission of personal messages and images to friends and family–it is completely understandable that we should be concerned about the privacy of our communication and information.
Privacy concerns in the virtual world are often compounded by lack of information and awareness. Not all of us are completely clear on how we should guard our privacy on the Internet. Especially in the corporate world, privacy becomes a huge concern, since it is not only the individual employee who can be at risk, but co-workers and the corporate entity too. Can privacy be guaranteed? How can you raise employee awareness on privacy issues? These are just a few of the questions that Lori Ruff is so well-qualified to address.
In #PRIVACYtweet , Lori tells you–in the succinct and ever-popular tweet format–what exactly privacy on the Internet means to your organization. To cite just one example, she addresses the need for privacy issues to be part of a hiring firm's requirements and why they must be in line with customer relations. You don't have to be an Internet guru to perceive and benefit from her experience and wisdom. Using Lori's book you can secure your privacy at the individual, group and corporate levels without paranoia. Read PrivacyTweet to clear the fear, so that you approach the Internet with caution, yet confidence.
About Lori*:
Lori Ruff, author of numerous books and famed speaker at conferences and training sessions, has taught technology and Internet courses since 1999 and helped thousands of people find success online. She is now living her life out loud in the social media world.
Dubbed The LinkedIn Diva, Lori is the 9th most connected woman on LinkedIn, with a full Facebook friends list and close to 50,000 followers on Twitter.
You can purchase a copy of '#PRIVACYtweet:Addressing Privacy Concerns in the Day of Social Media' online on the publisher site, Happy About or on Amazon. *I did receive a copy of this book from the publisher to help in the promotion of the book
Next, I would like to introduce you to a book on the social media list on Amazon and on my reading list: 'Share This! How you will change the world with Social Media'.
Share This! How you will change the world with Social Media
by Deanna Zandt
"If you are an activist or a concerned citizen and you are new to social media, start with Share This! Deanna Zandt has deep knowledge, broad experience, a knack for clear and simple explanation, a talent for storytelling, and a wonderfully engaging voice."
–Howard Rheingold, author of Smart Mobs and lecturer, University of California Berkeley and Stanford University
About the Book*
Social networks can be so much more than a way to find your high school friends or learn what your favorite celebrity had for breakfast. They can be powerful tools for changing the world. With Share This! both regular folks of a progressive bent and committed activists can learn how to go beyond swapping movie reviews and vacation photos (not that there's anything wrong with that).
At the moment the same kinds of people who dominate the dialog off-line are dominating it online, and things will never change if that doesn't change. Progressives need to get on social networks and share their stories, join conversations, connect with others–and not just others exactly like themselves. It's vital to reach out across all those ethnic/gender/preference/class/age lines that exist even within the progressive camp. As Deanna Zandt puts it, "creating a just society is sort of like the evolution of the species–if you have a bunch of the same DNA mixing together the species mutates poorly and eventually dies off."
But there are definitely dos and don'ts. Zandt delves into exactly what people are and are not looking for in online exchanges. How to be a good guest. What to share. Why authenticity is more important than just about anything, including traditional notions of expertise or authority. She addresses some common fears, like worrying about giving too much about yourself away, blurring the lines between your professional and personal life, or getting buried under a steaming heap of information overload. And she offers detailed, nuts-and bolts "how to get started" advice for both individuals and organizations.
The Internet is upending hierarchies and freeing the flow of information in a way that makes the invention of the printing press seem like an historical footnote. Share This! shows how to take advantage of this unprecedented opportunity to make marginalized voices heard and support real, fundamental change–and, incidentally, have some fun doing it.
About Deanna Zandt*:
Deanna Zandt is a media technologist and the author of Share This! How You Will Change the World with Social Networking (forthcoming: Berrett-Koehler, June 2010). She is a consultant to key progressive media organizations including AlterNet and Jim Hightower's Hightower Lowdown, and hosts TechGrrl Tips on GRITtv with Laura Flanders. Zandt specializes in social media, and is a leading expert in women and technology. She works with groups to create and implement effective web strategies toward organizational goals of civic engagement and empowerment, and uses her background in linguistics, advertising, telecommunications and finance to complement her technical expertise. She has spoken at a number of conferences, including the National Conference on Media Reform, Bioneers, America's Future Now (formerly "Take Back America,") Women Action & The Media, and provides beginner and advanced workshops both online and in person.
In January 2009, Deanna was chosen as a fellow for the Progressive Women's Voices program at the Women's Media Center. She also serves as a technology advisor to a number of organizations, including Feministing, The Girls & Boys Projects and Women Action & The Media.
In addition to her technology work, Deanna writes and illustrates graphic stories and comics, and volunteers with dog rescue organization Rat Terrier ResQ.
*courtesy of book website and Amazon
You can purchase a copy of 'Share This!' on Amazon.
I truly hope you will check out these books and please comment and let me know your thoughts on them.