The Book List: a weekly series by Teresa Morrow
I'm Teresa Morrow, aka The Author's Cheerleader and I work with authors & writers to help them with their online book promotion and marketing. As part of my job I read a lot of books (I love to read anyway!). The books in The Book List series will cover a range of topics such as social media, product development, marketing, blogging, business, organization, career building, finance, networking, writing, self development, and inspiration.
'#SOCIAL MEDIA PRtweet' by Janet Fouts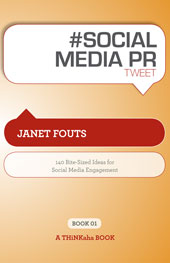 In #SOCIAL MEDIA PR tweet Janet Fouts shows you how. Social media, as she explains lucidly, is not about one-way broadcasting but about two-way communication. Sure, your company's PR messaging needs to go out but after that you also need to engage your audience, assimilate feedback and close the loop. In other words, social media is all about dialog.
Public relations is a changing field and it can be a challenge to manage and control corporate messaging
in these times of lightning fast responses and broad data dissemination. Bottom line? You can't control social media, so you'd best learn to understand how to work with it instead of against it. The tips in this book will get you on the road to understanding the potential of this medium. The fact that these are delivered in 140 characters or less demonstrates the value you can deliver in small packages.
Here are a few tweets from the #SOCIAL MEDIA PRtweet I enjoyed:
#10 Social media is turning PR professionals into content publishers.
#24 Post relevant and useful content on a forum with a high Google page rank and it will raise the ranking of
your website too.
#40 Every day find ten people already in your network and support them in some way. Share their blog post, or their new product or service.
#47 Creating a blog can open a lot of doors and help establish you as an industry expert, serve as a
platform to engage consumers on a deeper level, and be a safe place to introduce a new product.
#76 Be generous. Quote others and link to their content as a benefit to your followers without apparent
benefit to yourself.
About the Book*:
PR has always been demanding. With expectations of lightning-fast responses, today's consumers, vendors and general public all make it challenging to manage and control corporate messaging and PR. Surely you have heard somebody promoting social media as a silver bullet or band-aid for all PR issues? Therein lies the danger…and the opportunity. It's very easy to make PR blunders with social media, simply because you cannot control it. Then how do you learn to use social media, work with it, exploit its potential fully and make it an integral component of your PR toolkit?
About Janet*:
Janet Fouts, is a social media coach, author, speaker and entrepreneur who helps individuals and corporations use social media tools effectively and efficiently. Her recent titles, Social Media Success! and #SOCIALMEDIA NONPROFIT tweet drew on her 15 years of experience in online marketing and social media, working in the trenches with businesses of all sizes. In addition to her coaching practice, Janet is Founder of the Social Media Coaching Center and Senior Partner at Tatu Digital Media, an award-winning, San Jose-based web design and development firm. She generously shares her knowledge and expertise on JanetFouts.com.
You can order a copy of '#SOCIALMEDIAPRtweet' online at Happy About (the publisher's site).
Next, I would like to introduce you to a book on the business book list on Amazon: 'The Seed: Finding Purpose and Happiness in Life and Work.
'The Seed' by Jon Gordon
This book came out recently on the new releases (business) list on Amazon.
"Why am I here? What is my purpose? Is this what my life is supposed to be?
Great questions! Jon Gordon's new book, The Seed, helps readers discover the answer. Through a wonderful story about a man given a two week leave of absence by his employer to, essentially, contemplate and renew his commitment to his job, we learn a method to explore our own satisfaction and find our purpose. The keys are, first, being open to discovery and, second, being open to the possibility that we may already be living our purpose but are missing the realization of, and passion for, that." Eleanore Biddaulp, Amazon reviewer
About the Book
A business fable to help you discover your purpose in work and life
New from Jon Gordon, the international and Wall Street Journal bestselling author of The Energy Bus, The Seed takes you on a quest for the meaning and passion behind work. Josh, an up-and-comer at his company, is disenchanted with his job. Challenged by his boss to take two weeks to decide if he really wants to work there, Josh takes off for the country, where he meets a wise farmer who gives him a seed and a promise: find the right place to plant the seed, and his purpose will be revealed.
Through Josh's journey cross-country journey, you'll find surprising new sources of wisdom and inspiration in your own business and life.
Nobody captures the deeper meaning of business like Jon Gordon, and The Seed is his most searching and significant book yet. Whatever your profession, take this insightful look at the purpose behind work, and plant The Seed of inspiration in your life!
About Jon*:
Jon Gordon is a speaker, consultant and author of the international best seller "The Energy Bus," "The No Complaining Rule," "Training Camp," "The Shark and The Goldfish" and his newest book "Soup: A Recipe to Nourish your Team and Culture."
Jon and his books have been featured on CNN, NBC's Today Show and in Forbes, Fast Company, O Magazine, The Wall Street Journal and The New York Times. His principles have been put to the test by numerous NFL coaches and teams, hospitals, Fortune 500 Companies, school districts and countless leaders in business, healthcare and education.
Jon is a graduate of Cornell University and holds a masters in teaching from Emory University. When he's not speaking to businesses, hospitals or schools, you can find him playing tennis or lacrosse with his wife and two "high energy" children.
*courtesy of book website and/or Amazon
You can purchase a copy of 'The Seed' at Amazon.