A Weekly Series by Teresa Morrow of Key Business Partners, LLC
I'm Teresa Morrow, Founder of Key Business Partners, LLC and I work with authors & writers to help them with their book promotion and social media marketing. As part of my job I read a lot of books (I love to read anyway!).
This week I will be highlighting two books; both are on the Amazon business marketing list and ones I my "reading list".
The books I cover in the Social Media Book List Series will cover a range of topics such as social media, marketing, blogging, business, organization, career building, finance, networking, writing, self development, and inspiration.
'Real-Time Marketing and PR: How to Instantly Engage Your Market, Connect with Customers, and Create Products that Grow Your Business Now'
by David Meerman Scott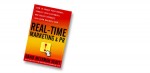 "We all know that opportunities and threats from the digital world often arrive without warning. They can't wait for discussion at monthly planning meetings. Hell, most times they can't wait for you to finish lunch!… Scott's book provides a rationale to help you create real-time mindset in your own organization."
– Bill Sledzik, Associate Professor, School of Journalism & Mass Communication, Kent State University
"The world has changed dramatically, and we have now entered a new, real-time era. Dusty business plans are now being crushed by right-now strategy and adaptation. David's book offers the new road map to entrepreneurs, business leaders, and individuals. It's made a big impact on the way I approach our business and our customers; the insight I've gained by reading it is priceless. This important and thoughtful book is a must-read to compete in the next era of business, and life."
– Josh Linkner Chairman / Founder, ePrize and author, Disciplined Dreaming: A Proven System to Unleash Business Creativity

About the Book*:
Real-Time Marketing means…
Real-time means news breaks over minutes, not days. It means ideas percolate, then suddenly and unpredictably go viral to a global audience. It's when companies develop (or refine) products or services instantly, based on feedback from customers or events in the marketplace. And it's when businesses see an opportunity and are the first to act on it.
Caught up in old, time-consuming processes, too many companies leave themselves fatally exposed by flying blind through this new media environment. You don't have to be among them. Discover Real-Time Marketing & PR and get a clear path to navigate and succeed in the changed business landscape.
In this eye-opening follow-up to the bestselling The New Rules of Marketing & PR, David Meerman Scott reveals the proven, practical steps to take your business into the real-time era.
About David*:
David Meerman Scott's book The New Rules of Marketing & PR opened people's eyes to the new realities of marketing and public relations on the Web. Six months on the BusinessWeek bestseller list and published in 26 languages from Bulgarian to Vietnamese, New Rules, now in its second edition, is a modern business classic. Scott's popular blog and hundreds of speaking engagements around the world give him a singular perspective on how businesses are implementing new strategies to reach buyers.
His newest book Real-Time Marketing & PR: How to Instantly Engage Your Market, Connect with Customers, and Create Products that Grow Your Business Now was released in November 2010. It achieved #2 on the Wall Street Journal bestseller list and #3 on the USA Today bestseller list.
He is also the co-author (with Brian Halligan) of the hit book Marketing Lessons from the Grateful Dead: What Every Business Can Learn from the Most Iconic Band in History and wrote three other books including World Wide Rave.
His blog – Web Ink Now – is ranked by AdAge Power 150 as a top worldwide marketing blog.
He is a recovering VP of marketing for two publicly traded technology companies and was also Asia marketing director for Knight-Ridder, at the time one of the world's largest newspaper and electronic information companies.
David has lived and worked in New York, Tokyo, and Hong Kong. He currently lives in the Boston area.
You can purchase a copy of 'Real-Time Marketing' online from the author site or on Amazon. *this information came from the author's website.
Next, I would like to introduce you to another book on the business book list on Amazon and on my reading list: 'UnMarketing'.
UnMarketing
by Scott Stratten
"One of the most powerful, entertaining and knowledgeable speakers that I've ever had the opportunity to hear speak" – Justin Levy, Director of Marketing, Business Development & Corporate Strategy, New Marketing Labs
About the Book*
From one of the leading experts in viral and social marketing-market your business effectively to today's customers
For generations, marketing has been hypocritical. We've been taught to market to others in ways we hate being marketed to (cold-calling, flyers, ads, etc.). So why do we still keep trying the same stale marketing moves?
UnMarketing shows you how to unlearn the old ways and consistently attract and engage the right customers. You'll stop just pushing out your message and praying that it sticks somewhere. Potential and current customers want to be listened to, validated, and have a platform to be heard-especially online. With UnMarketing, you'll create such a relationship with your customers, and make yourself the logical choice for their needs.
* Shows how to create a mindset and systems to roll out a new, 21st century marketing approach
* Marketing expert Scott Stratten focuses on a Pull & Stay method (pulling your market towards you and staying/engaging with them, leading them to naturally choose you for their needs) rather than Push & Pray
* Redefines marketing as all points of engagement between a company and its customers, not just a single boxed-in activity
Traditional marketing methods are leading to diminishing returns and disaffected customers. The answer? Stop marketing, start UnMarketing!
About Scott*:
Scott Stratten is the President of Un-Marketing. He is an expert in Viral, Social, and Authentic Marketing which he calls Un-Marketing. It's all about positioning yourself as a trusted expert in front of your target market, so when they have the need, they choose you.
Formerly a music industry marketer, national sales training manager and a Professor at the Sheridan College School of Business, he has been running his "UnAgency" for 8 years which has become the place companies like PepsiCo, Red Cross and Fidelity Investments come to when they need help guiding their way through the viral/social media and relationship marketing landscape. He now has over 76,000 people follow his daily rantings on Twitter and was voted one of the top influencers on the site with over 200 million users. It's the only time he's felt comfortable being compared to Ashton Kutcher, P Diddy and Justin Bieber.
His book "UnMarketing: Stop Marketing. Start Engaging" became a national best-seller before it was released, and recently a Globe and Mail #1 Business best-seller, National Post, Amazon.com, Amazon.ca and Amazon UK best-seller. It was also just named one of the top business books of the year by 1-800-CEO READ begin_of_the_skype_highlighting              1-800-CEO READ      end_of_the_skype_highlighting and one of the top 10 books of 2010 by Under30CEO.com
His passion comes out most when speaking on stage, preaching engagement and becoming one of the most sought-out speakers on the subject.
*courtesy of book website and Amazon
You can purchase a copy of 'UnMarketing' at Amazon.
I truly hope you will check out these books and please comment and let me know your thoughts on them.