Thoughts that Say Easy . . .
I love those idiomatic phrases that mean things are easy …
Easy as pie …
It's a piece of cake.
My most favorite of them are …
It's a breeze. . . .
a day at the beach.
I use them when things get stressful or hard, especially when my head gets too filled with details and options.
When I have too many options, those last two idioms help me sort them. A breeze and beach conjure up images that let me sit back for a thought, no matter how busy or anxious for answer the world is.
I imagine a day at the beach where the sand and the sky are big and open. No clocks or buildings interrupt a chance to spread out my thoughts. I need to see the spaces between the options to know what I've got and sort them.
A few well-spaced thoughts and I remember that my life is my creation. I'm in charge of valuing the options. I choose the path, the curves, and the interactions. When I listen to what I know, seeing where I am and I'm going is easy. It's a day at the beach drawing possibilities in the sand.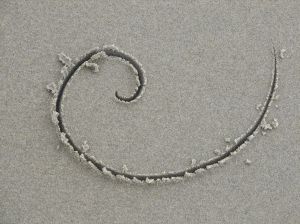 How do you sort too many thoughts and options?
–ME "Liz" Strauss
Image: sxc.hu
Image: sxc.hu
Work with Liz!!