Beach Notes by Suzie Cheel and Des Walsh
Today's beach notes has a new twist:
Idea and image by Suzie and the verse by Des Walsh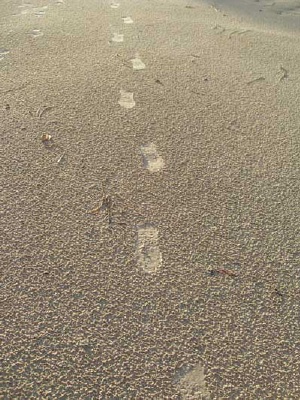 (c) Suzie Cheel
Yesterday as we were walking on the beach, earlier than usual I saw this perfect line of single footsteps and thought that would be great for beach notes. I sometimes get impatient taking one step at a time. As Des says " You are not a kangaroo"!
Des then penned these words:
We were made
To go one step at a time
We try too often
To rush the process
We stumble
When will we learn?
Step by step works.
I know when I take one step and follow through things flow. I am learning:)