A New Answer and a Hit
Last night, I asked a question.
Then an audience came. Real folks showed up to push me out of my head into the daylight. I got advice, ideas, tough love, and friendship. I listened carefully to every word, and I'm still listening.
The best part of community is finding out that other folks have stopped where you're stuck standing.
From the comment, I saw the dots connecting to form the message I took from that conversation. It's simple enough.
When If I give away my time, I'm agreeing to that contract.
If that's not working, I need to stop doing it.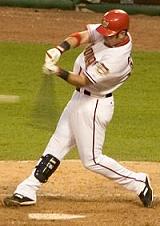 Thank you all for helping me stand outside of myself
to see the disconnects in my thinking.
I'm a lucky girl . . .
. . . a lucky girl who's decided that
I'm hitting one out of the park in 2008.
–ME "Liz" Strauss
Work with Liz!!
(Dear Jeff, I know you hate baseball analogies.)