A Weekly Series by Teresa Morrow
I'm Teresa Morrow, Founder of Key Business Partners, LLC and I work with authors by managing their book promotion and social media marketing. As part of my job I read a lot of books (I love to read anyway!).
This week I will be highlighting two books; one author I am currently working with 'Scrappy General Management' by Michael Horton and one book on the social media Amazon list 'Word of Mouth Marketing' by Idil M. Cakim.
The books I discuss in the Social Media Book List Series will cover a range of topics such as social media, marketing, blogging, business, organization, career building, finance, networking, writing, self development, and inspiration.
'Scrappy General Management: Common Sense Practices to Avoid Calamities, Catastrophies, and Lackluster Results'
by Michael Horton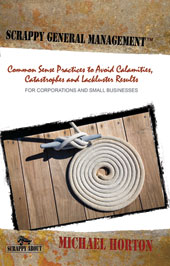 I would first like to share with you an excerpt from the Author's Note ( I believe it is very telling and reflects the point of the book).
So why this book? When I started in the GM role, I had little idea ofwhat a GM was meant to do. The title does give you a good hint as to what's required; kind of like General Electric tells you the company has something to do with electricity. But one thing's for sure, I couldn't ask my boss, as I'd just spent a good deal of time convincing him that I knew what I was doing so that I could get the job.
While there is a plethora of literature on the different aspects of leadership, management, and marketing, it is rarely brought together in a useful form. A wise person once said, "There is no such thing as coincidence." If something works once, and you understand the how's and why's, there's a damn good chance you can get it to work again. And if the concept also happens by some stroke of luck to agree with some sort of academic theory, then by classic triangulation you have something that perhaps is worth documenting.
It doesn't matter if you're working in good times or bad, at the end of the day solid, common-sense management practice will serve you and your team well and allow you to achieve the results that you deserve. So enjoy the book, and I hope it helps you avoid calamities and produce results that are far from "lackluster."
"Practical advice from a leader who has 'been there!' What is better than learning from experience? Learning from someone else's experience—get Scrappy!"
–Marshall Goldsmith, Author of The New York Times bestsellers MOJO and What Got You Here Won't Get You There
About the Book*:
Ok, you're the boss now, not of a section, or the team of a particular function — but of the whole shooting match, end to end. You are the business's general manager and the staff looks to you for their livelihoods (yes you). So you have to strategize, sell, supply and service, collect the cash, provision, train and motivate your people, delight your clients and at the end of the day, return a profit to the business owners. So where the hell do you start? How do you know that you're not neglecting any aspect that will bite you on the bum later?
Don't stress, it's not all that hard and it can be an extremely enjoyable and rewarding process. This book will provide you with the 7 common sense and repeatable steps that will guide you through running a business that everyone will be proud to be associated with.
The intended reader is someone moving up from middle management — or running their own business. The book is aimed to provide an easy to follow road map that will give some comfort and order amid the chaos of information and expectations…Helping with the 'what do I do next?' question that no-one wants to ask for the fear of appearing that they're not up to it.
About Michael*:
Michael Horton is Vice President for the Australian Chemical, Energy, and Natural Resources division of Computer Sciences Corporation (CSC), with responsibility for annual revenues of $360 million and a matrix responsibility for 2,000 people. Michael has 28 years experience in the Information Technology Industry, 21 years of that in a management capacity and has been employed at CSC since 1994. During his time at CSC, he has held senior management positions in Western Australia, Victoria and New South Wales, Australia. Since 2000 he has also completed challenging assignments based in Singapore, Kuala Lumpur, Malaysia, Maidstone in the UK and San Diego, USA.
Michael holds an Associate Diploma in Applied Science from Edith Cowan University in Western Australia, a Master of IT Management from Charles Sturt University in New South Wales and is Project Management Institute (PMI) certified. He is married, with two teenage children and enjoys surfing, sailing and holidaying at every opportunity.
You can purchase a copy of 'Scrappy about General Management: Common Sense Practices to Avoid Calamities, Catastrophes and Lackluster Results' online on the publisher site, Happy About or on Amazon.*I did receive a copy of this book from the publisher to help in the promotion of the book
Next, I would like to introduce you to a book on the social media list on Amazon and on my reading list: 'Word of Mouth Marketing'.
Implementing Word of Mouth Marketing: Online Strategies to Identify Influencers, Craft Stories, and Draw Customers
by Idil M. Cakim
"Cakim gets it—and always has! Great word of mouth starts with basics like product quality and customer service. Her book is a treasure trove of 'get started now' suggestions on how to better serve consumers, and their most genuine, authentic, and meaningful stories."
—Pete Blackshaw, Executive Vice President, Digital Strategic Services, Nielsen Online
About the Book*
Learn to capitalize on online word of mouth, leverage its power, and measure results of your initiatives
Savvy, strategic, and right on time, Implementing Word of Mouth Marketing is the essential guide for any company or organization needing to understand the dynamics of online word of mouth. This powerful book will coach you to identify your own set of online influencers, craft the stories that will resonate with your consumers, and spread messages through cybercitizens who are social media experts.
* Guides you to identify and engage your online influencers to manage your reputation, promote your brands, and sell your products
* Reveals how word of mouth disperses online
* Explores strategies for your organization to engage its online advocates, tap into networks, and to mobilize the masses
* Explains how to design online word of mouth campaigns
* Includes measurement tools to gauge the impact word of mouth campaigns
Filled with case studies, research, and check lists, this invaluable guide will definitively show you how to leverage the power of online advocates to pass along stories, deliver recommendations, and draw people to purchasing points.
About Idil M. Cakim*:
Idil M. Cakim is Vice President of Inter-active Media at GolinHarris, a global public relations firm. She served on the board of the Word of Mouth Marketing Association, whose members include Dell, Microsoft, Hilton, Amway Global, and the AARP. She regularly publishes articles in business magazines and trade publications on social media and word- of-mouth strategies and has been quoted as an expert in online communications in the New York Times, the Financial Times, Harvard Business Review, CNet News, the Chicago Tribune, and other media.
*courtesy of book website and Amazon
You can purchase a copy of 'Implementing Word of Mouth Marketing' on Amazon.
I truly hope you will check out these books and please comment and let me know your thoughts on them.