You have the power to change the world
by Mark Hayward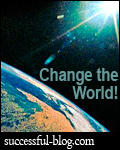 Do certain local or global issues affect you deeply? Would you like to take action and help?
You have the POWER to change the world! Sounds cliché, but please read those words again and think about what is important to you, to society. In this blogging and social media age you don't have to be associated with a huge humanitarian organization or educational foundation in order to take action.
In fact, if you would like to create your own non-profit group to assist a particular cause, opportunities abound for you to make a positive and lasting change. The best part, most of the technology needed to help spread the word is available for free or at a minimal charge.
Some Background Information
The other day when I read Liz's post, Open Up a World of Solutions with One Idea. She seemed a bit frustrated because whatever she was trying to put together was not working out that well for her. In fact, she stated:
This time it's not joy I'm sharing. It's a state of confusion, a search for solutions, a total frustration with my inability to make things connect in the direction that was my intention.
I am not quite sure what was troubling Liz that day, however, being the eternal optimist, she goes on to end the post by stating, "We can change the world — just like that."
Truly, I believe that we, as individuals, and collectively as a group, can change the world. For many years I would watch stories on the evening news of horrific events that were taking place around the globe in places like Boznia and Rwanda and even in the USA (hurricane Katrina for one).
While I always had pity and empathized with those who were being affected by various events, I NEVER actually took action.
Time to Act
While serving as a U.S. Peace Corps volunteer in Papua New Guinea I tragically witnessed many people die from various illnesses that afflict developing countries, however, it was an incident that occurred during the final night in my village, which finally spawned a call to action.
As my wife and I were packing our things and saying goodbye to friends we could hear screams coming from the little bush hut that acted as an aid station and we went to investigate further.
Upon our arrival we witnessed a young woman of about ten or eleven fighting through the final stages of cerebral malaria and there was nothing we could do to help. The incident, and the image of her struggling and fighting dementia, has been indelibly burned into my mind.
That evening after the young woman passed I made a vow to myself that if I were ever in a position where I owned my own business and could dedicate some of my time to helping assist in certain global crises then I would.
At the time I didn't know what I would do exactly, or how I would do it, but I was determined and serious.
Train for Humanity Launches
Recently, in collaboration with some other bloggers in various corners of the world (most notably Leo Babauta of Zen Habits), I turned my pity and apathy into action and launched Train for Humanity to help raise funds and awareness for orphans and refugees who have been affected by genocide. (You can read the full story here: How Did Train for Humanity Get Its Start? )
Our mission is simple: getting fit + social media + blogging = social good
We, the founding members, have combined our collective passion for exercise and getting in shape with the power of blogging and social media in an effort to assist in a dire humanitarian crisis in Darfur. During the pilot project, three bloggers, Leo Babauta, Dan Clements, and I are training for various endurance events and trying to raise funds for Darfur Peace and Development's Shegegkaro School, which was recently bombed and subsequently destroyed.
The Power to Change the World and You
This post isn't really about me, on the contrary, it's meant to be about YOU and your particular cause.
If you find yourself in a similar situation as me and if certain issues affect you (and you would like to help) I would strongly urge you to go ahead and take the next steps toward action. The tools are all there for you. You just have to be willing to use them and the rest comes down to innovation, creativity, energy, and time.
Certainly, it doesn't even have to be a global crisis, but could just as easily be an issue closer to home. Perhaps your child's school could use more funding, or maybe you are moved by the plight of stray animals?
To help you get started here are Six Tips to Help You Take Action:
Make it REAL – let someone know about your interest to start an organization or desire to take action.
Register your domain name – domains cost about $10.00 a year to register.
Get web hosting – you can get reliable hosting for $4.95 a month (or less).
Download and install WordPress – if you are reading Liz's site I am sure you already know this but WordPress is a very powerful, freely available, blogging and CMS software.
Google alert – setup a Google alert for your particular cause or keyword (for me it was Darfur).
Begin networking – from the "listening" and information gathering that you undertake with your Google alert, begin networking via social media (Twitter, FaceBook, etc) and leaving comments on blogs of similar, like-minded individuals.
Additionally, because you are reading Liz's blog I am going to assume that you are already familiar with blogging and social media, but if you know of others who might need some resource material to help them get started, below are five topical blog posts which should help folks take the first steps.
Liz Strauss – The Ultimate Guide 3: Every Blog Needs a Platform
Chris Brogan – 50 Ways to Take Your Blog to the Next Level
Jeff Pulver – How to Start Growing your Business Network
Beth Kanter – How Much Time Does It Take To Do Social Media?
ProBlogger – Launching Your Next Venture Using Social Media – 5 Lessons Learned
Now it's your turn. What causes are you passionate about? What would you like to change about the world, or even your hometown, today? Do you have other tips that might help us take action and really change the world?
Mark Hayward lives in the Caribbean and he is the creator and co-founder of the recently launched humanitarian initiative Train for Humanity. He is currently training for the Miami Man triathlon to raise funds for the recently bombed the ShegegKaro School in Darfur. You can follow him on Twitter or check out his blog MyTropicalEscape.
___________
Thanks, Mark!
We can change the world — just like that.
–ME "Liz" Strauss