A Weekly Series by Teresa Morrow
I'm Teresa Morrow, Founder of Key Business Partners, LLC and I work with authors by managing their book promotion and publicity. As part of my job I read a lot of books (I love to read anyway!).
This week I will be highlighting two books; one author I am currently working with '42 Rules to Turning Prospects into Customers' by Meridith Elliott Powell and one book on the social media Amazon list 'Success Secrets of Social Media Marketing Superstars' by Mitch Meyerson .
The books I discuss in the Social Media Book List Series will cover a range of topics such as social media, marketing, blogging, business, organization, career building, finance, networking, writing, self development, and inspiration.
'42 Rules to Turning Prospects into Customers'
by Meridith Elliott Powell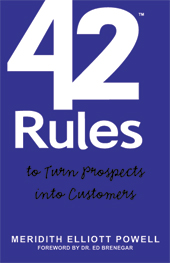 "Between the specific action steps and the simplicity of Meridith's ideas, I found myself eager to try what I learned in this benefit-rich book. I gained ideas for my business in almost every chapter and have been effortlessly taking new steps forward with my sales process. Meridith just makes the sales process so easy!"
Misti Burmeister, CEO Inspirion, Inc., New York Times Best-Selling Author, Boomers to Bloggers: Success Strategies across Generations
"Sales can seem overwhelming and scary to so many, but thank goodness for Meridith. She approaches the topic of sales in a unique way in her new book by laying out easy steps that lead to great relationships that close that deal. This book is ideal for everyone from the sales professional to the professional who never thought they would have to sell. By the time you finish Meridith's book, you will be a salesperson with a smile."
Marquesa Pettway, DTM, Reinvention Expert, Speaker, Author, Coach
About the Book*:
The economy is changing. Trust and value have become the new Return on Investment (ROI). Consumers are the new drivers of the market; they are in control of where, when, how and from whom they buy. To succeed in this economy you need to do it all – build relationships, establish trust and value, maximize efficiency and generate bottom line results.
In her new book, 42 Rules To Turn your Prospects into Customers, Meridith Elliott Powell draws on her 20-plus years in sales to give you a practical step-by-step guide on how to find the right prospects, build profitable relationships, close more sales and turn your customers into champions for your business. Through her experience, research and interviews with sales professionals, clients and executives, Powell has gathered valuable information that will help you navigate this change, get ahead of the curve, and succeed.
For sales people, business owners, and executives who need to know how to identify the right prospects; build quality relationships, and maximize their sales efforts, this book provides solid, actionable answers. The rules can be learned quickly and implemented immediately so you and your teams can develop your most critical skill – striking the balance between relationships and results.
Powell answers these questions and more:
• How can I make sure my networking efforts are setting me up for sales success?
• How do I maximize my time and minimize my expenses?
• How do I handle the stress of producing and meeting sales goals?
• How do I get my customers to buy my best and most valuable products or services?
• How do I standout from the competition?
Powell, a life-long student of sales and the sales process, is passionate about helping her clients succeed. Her experience, dedication to research and her desire to listen and learn from the ultimate teacher – our customers – ensure readers gain first hand knowledge of how to Turn Prospects into Customers.
This book is divided into three parts, each representing an important process in approaching prospects and turning them into customers.
Part I is The Foundation. It contains everything you need to consider before you go on your first sales call. I will walk you through every step and encourage you along the way. When you finish this section, you'll actually look forward to setting up a sales call, and you'll be eager to get started on your strategy.
Part II is The Call, your first visit with a potential customer. We will address how to use the foundation rules, and how to engage your customer so you design a sales experience that is positive for both of you.
Part III is The Follow-Up. These rules are so much more than just a thank-you card or a phone call; these are the rules that complete the movement of prospect to customer. They provide the opportunities to offer additional services to an already satisfied customer base, and to solidify relationships and retain business for the long term. A well-executed follow-up process will create a strategy strong in repeat business and
referrals.
About Meridith*:
Meridith Elliott Powell is a coach, speaker and business development expert. Meridith is passionate about networking, sales and service, and has dedicated herself to discovering why some people struggle and others succeed when it comes to developing these critical skills. On a self-described mission, Meridith uses everything she has learned to develop programs, coaching techniques and strategies to help people ignite their internal sales/networking flame.
Upbeat, energetic and cutting edge are just a few words used to describe Meridith's selling and writing style. Prior to founding her company, MotionFirst, Meridith spent more than 20 years working in sales and leadership in the fields of finance, sales, marketing and strategy. In addition, she has been recognized numerous times for both her professional and charitable achievements.
Today she works as a certified strategist, coach, and human behavior specialist, working with a wide variety of clients ranging from health care to finance. She is an active member of the National Speakers Association, Lessons in Leadership and the American Society For Training and Development. In addition, she holds certifications as both a business and emotional intelligence coach.
You can purchase a copy of '42 Rules to Turning Prospects into Customers' online on the publisher site, Superstar Press, a Happy About imprint or on Amazon.
Next, I would like to introduce you to a book on the social media list on Amazon and on my reading list is 'Success Secrets of Social Media Marketing Superstars'.
Success Secrets of Social Media Marketing Superstars
by Mitch Meyerson
About the Book*
Online marketing expert Mitch Meyerson presents you with an unmatched advantage into the world of social media – the priceless secrets, strategies, tactics and insights of more than 20 of today's social media elite. Handpicked to cover almost every aspect of social media marketing, Meyerson and this distinguished team of experts open their playbooks and teach you how to create effective social media campaigns to cut through the clutter, reach out to millions and grow your business.
Features:
* Proven tips and tactics from 20+ top social media marketers
* The biggest mistakes businesses make with social media and how to fix them
* Actionable plans for all areas including social networks, blogs, web TV and mobile marketing
* Real-world case studies, best practices and proven techniques from the experts
* Detailed list of resources
Contributions from World-Class Social Media Experts:
* Keith Ferrazi & Tahl Raz: Relationship Strategy
* Brian Clark: Psychology of Social Media
* Mitch Meyerson: Online Marketing
* Ann Handley: Creating Content
* Gary Vaynerchuk: Building Mega-Followings
* Andy Willbes: Personality
* Chris Brogan: Building Communities
* Joel Comm: Success Qualities
* Craig Valentine: Communicate with Impact
* Starr Hall: Building Profits
* Dan Janal: PR Strategies
* Michael Stelzner: Go Viral
* Denise Wakeman: Business Blogs
* Mari Smith: Facebook
* Deborah Cole Micek: Twitter
* Barbara Rozgonyi: LinkedIn
* Julie Perry: YouTube
* Paul Colligan: Podcasting
* Chris Garrett: Social Bookmarking
* Kim Dushinski: Mobile Marketing
* Shama Kabani: Online Video
* Dave Evans: One Hour a Day
About Mitch Meyerson*:
Mitch Meyerson is a speaker, trainer, and the author of 9 books including Mastering Online Marketing, Guerrilla Marketing on the Internet, and Six Keys to Creating the Life You Desire. He has been a featured expert on Oprah and is the Founder of the Guerrilla Marketing Coach Certification Program. For more information, visit: www.MitchMeyerson.com
*courtesy of book website and Amazon
You can purchase a copy of 'Success Secrets of Social Media Superstars' on Amazon or on his website Mitch Meyerson.
I truly hope you will check out these books and please comment and let me know your thoughts on them.