When I first entered the workforce, my version of executive presence was a navy blue skirt suit. I struggled to be taken seriously as a writer in an office full of engineers. (That was also at a time when IBM required female employees to wear pantyhose.)
It took me years to realize that the suit alone wasn't going to do it.
In our casual, work-from-the-couch, wear-pajamas business environment, it's more important than ever to work on the elusive quality of executive presence.
Skills like gravitas, clear communication, a polished appearance, and authenticity are increasingly rare, but are required for building a successful business. Our own Molly Cantrell-Craig wrote earlier this year about Indiana Jones and his leadership style (you don't need to carry a bullwhip).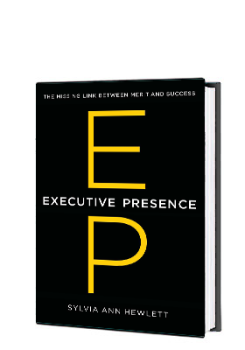 In Executive Presence, author Sylvia Ann Hewlett dares to puncture the balloon of puffed up "personal branding" that is often a lazy way to fake presence. She knows what she's talking about. She is an internationally recognized expert on workplace power and influence who began her career as an insecure, sheltered Welsh girl breaking into the elite echelons at Cambridge University.
There's a Grand Canyon-like chasm between choosing a color scheme for your wardrobe and having the cojones to tell your boss that she has just suggested something unethical.
The book is full of true stories and practical advice from men and women who have forged a path of leadership as business owners and as management.
How to Increase Your Executive Presence (A Sampling)
Tackle the hard things yourself. Don't hide in your office and expect colleagues to take care of the tough tasks.
Become known as the calm in the eye of the storm. When everyone else is panicking, be the person who holds it together and makes decisions.
Surround yourself with people who are better than you are. Have the guts to admit what you're not good at, and hire people who are strong in your areas of weakness.
Overprepare for everything. Be ready to contribute and speak up.
Get rid of communication crutches, both verbal tics (like saying um or uh) and physical crutches like avoiding eye contact.
When it comes to your appearance, focus on being appropriate to the situation/audience.
Your work attire should be your armor, making you feel invincible, not insecure. If you don't feel right, that's a signal from your inner voice.
If you need help in developing presence, consider connecting with a mentor or sponsor, someone you admire who already has presence.
Executive Presence is a handy little book for anyone who is new to the workforce, re-entering the workforce, or who wants to build a personal brand that makes an impact. It would be an outstanding graduation gift.
Do you feel that people respond to you as a leader when you're making new connections?