A Weekly Series by Teresa Morrow
I'm Teresa Morrow, Founder of Key Business Partners, LLC and I work with authors by managing their book promotion and publicity. As part of my job I read a lot of books (I love to read anyway!).
This week I will be highlighting two books; one author I am currently working with 'Community 101′ by Robyn Tippins and Miranda Marquit and one book on the social media Amazon list 'the Digital Handshake' by Paul Chaney.
The books I discuss in the Social Media Book List Series will cover a range of topics such as social media, marketing, blogging, business, organization, career building, finance, networking, writing, self development, and inspiration.
'Community 101'
by Robyn Tippins and Miranda Marquit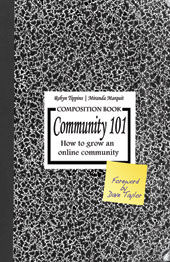 "Finding and connecting with the right people is part of the social gluethat hold personal and professional relationships together on the Internet. Robyn and Miranda go through a detailed process of identifying, establishing and building an online presence by combining various strategies and tools to enhance your success."
~Andrew Wee, Blogger and Business Consultant
WhoIsAndrewWee.com
"Robyn and Miranda have simplified online communities in a way that any business owner can understand. Community 101 is filled with gems to help your community thrive in the online space."
~Tamar Weinberg, Techipedia.com
Few great tips from this book about building an online community:
1. Use straight talk.
Tell it like it is.
Teresa Tidbit–>yes, authenticity is key with online communications.
2. Use your community members for positive change.
Invent ways for your community to be more involved and use their
information to improve your product and website.
Teresa Tidbit–>Get people involved in something bigger than themselves.
3. Visibility.
Get out there. Be seen.
Teresa Tidbit–>Again, no one knows you are online unless you are really involved.
4. Tweak.
Be willing to change things to better suit the needs of your community.
Teresa Tidbit–>Flexibility and compromise, the cornerstones to any relationship, even an online one.
5. Remember the Golden Rule.
Think about how you want to be treated—then treat your community members the same way.
Teresa Tidbit–>Think before you put something out there. Focus on resolutions, not the issue.
About the Book*:
Making an online community that grows and survives isn't easy. It takes planning, vision and dedication. Most companies aren't prepared to invest the time and manpower it takes to make it happen, and when their communities fail to prosper, they blame it on chance.
But chance doesn't play a part in whether or not you respond to your community's needs. Successful online communities don't just happen, but with proper care and feeding your company can build a community that surpasses all of your expectations. If you are kind to the people who make up your community, you'll gain a sold-out customer base and your business will be the beneficiary of increased sales, increased loyalty and increased customer satisfaction. This book isn't intended to tell you what a community is, it will explain what a company can gain from a great online community and it will give you the education and tools you need to make it happen.
This book is for anyone who wants to build a fantastic online community. From Product Mangers to Executives, from Entrepreneurs to Evangelists, anyone can make their company's community thrive. Community management isn't about trickery or contests, but about treating your community's members as if they matter to you. After reading this book, you have no excuse not to build your own thriving online community.
About Robyn Tippins*:
Robyn Tippins is a community advocate with over 10 years experience in the social media space. From her early days marketing her own small business using forums and email lists, to blogging, podcasting, vlogging and video game immersion, she's often used social networking to engage and communicate. In her current role, Robyn oversees the community aspect of the external developers on the Yahoo! Developer Network.
Robyn has blogged for blog networks and corporations, podcasted for small and large businesses, worked closely with social networking sites, and advised Fortune 500 companies on social media and community. Her early podcasts featured some of the web's most interesting and well-known Web 2.0 experts in fields such as VoIP, Technology, Open Source, Marketing, Social Networking, Video Games and Blogging.
About Miranda Marquit*
Miranda Marquit is a professional blogger and freelance writer working from home. She has five years experience in the blogging and social media space, mainly providing content and support for corporate blogs. Miranda understands the importance of blogging and social media in online marketing and community building, and enjoys interacting and networking via the Internet.
In addition to professional blogging, Miranda is a freelance writer with a Journalism degree. Her work has appeared in national magazines and on news Web sites. She is also a columnist for her local newspaper. Miranda enjoys reading, music, travel, and the outdoors. Her favorite activities involve using her hobbies as a way to spend time with her husband and their six-year-old son. Miranda lives with her family in Logan, Utah.
You can purchase a copy of 'Community 101' online at Amazon or on the publisher site, Happy About.
*courtesy of book website and Amazon
Next, I would like to introduce you to a book on the social media list on Amazon and on my reading list is 'The Digital Handshake'.
The Digital Handshake: Seven Proven Strategies to Grown your Business using Social Media
by Paul Chaney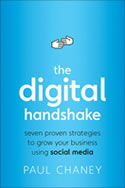 stated:
"I really enjoyed reading "The Digital Handshake" and learned quite a bit about how to use Social Media to grow my business. I've read other books about Social Media before but they were geared toward corporations and very large businesses. I found there to be much more information that was relevant to my small business. This book not only gave me specific ideas about how to use social media for marketing my small business, but also taught me more about the nuts and bolts of each medium so that I can better understand how to create content."
About the Book*:
Practical applications for using social media to boost your business
Even today's most successful businesses are seeing shrinking returns on their advertising and marketing dollars. The Digital Handshake explains why advertising and marketing are losing their effectiveness and how to solve the problem using social media to corral elusive consumers. It explains the best practical business applications in current use and how you can use them to ramp up your business.
Using case studies gleaned from real businesses, author Paul Chaney shows you how companies both large and small that can tap social media to mitigate market changes and reap valuable business benefit in the real world.
* Explains how you can use social media to grow your business and connect with consumers
* Author Paul Chaney is a leading authority on blogging and social media
* Covers practical, effective business applications for blogging, social networking, online video, microblogging and much more
* Shows how to design a comprehensive marketing strategy using traditional and new media platforms
Today's technology can either undermine your marketing efforts or enhance them. The Digital Handshake helps you make sure the Internet grows your business for the long run.
About Paul Chaney*:
Paul Chaney is Internet marketing director for Bizzuka, a Web design, content management and Internet marketing company based in Lafayette, LA.
Prior to joining Bizzuka Paul was co-founder of Blogging Systems, a blog software company that significantly impacted the real estate industry by encouraging Realtors to adopt blogging as a marketing strategy. He is the co-author of Realty Blogging: Build your Brand and Outsmart Your Competition, which similarly impacted the industry and which was the first blogging book to target a specific industry vertical.
Paul serves as president of the International Blogging and New Media Association (IBNMA), an organization dedicated to advancing the growth of blogging, podcasting and social media as an industry. He sits on the board of advisors for the Women's Wisdom Network, the Social Media Marketing Institute, and SmartBrief on Social Media.
He is a feature writer for Practical Ecommerce magazine on the use of social media for marketing purposes and blogs for MarketingProfs Daily Fix blog. Paul has led numerous blog and social media workshops and seminars, including the first ever such seminar to be held in Asia. He has also blogged professionally with Weblogs, Inc., as well as with Allbusiness.com.
Paul has served as Technical Editor on a number of For Dummies series books related to blogs and Internet marketing, and was contributing writer on Buzz Marketing with Blogs For Dummies, published by Wiley.
*courtesy of book website and Amazon
You can purchase a copy of 'The Digital Handshake' on Amazon.
I truly hope you will check out these books and please comment and let me know your thoughts on them.