By Andy Crestodina
Sorry, Word. We had a good run.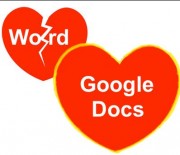 We created hundreds of beautiful documents together over the years, but it's time to move on. I've moved up, into the "cloud." I've moved all of my content creation to Google Docs.
Why? There are some obvious reasons:
No crashes. No "Oops, forgot to save!" Google has never lost a single word I've typed.
No version control issues. Everything is easy to share. No more email attachments or wondering if I'm looking at the latest version.
Word was always high-maintenance. It's kind of a resource hog and slowed down my computer. But Google Docs? I've got a browser open anyway. Why not use it?
So, let's use Docs. Here's how to use a Google Docs content marketing template:
1. Set it up with whatever content standards you set for your own writing.
Use the template to prompt yourself to use the formatting, length, tone, images, keywords, links, calls-to-action and author bios that you know work best for you.
If you don't yet have a content template, here's CMI's own Template for Killer Website Content, which you can adapt from a PDF version into your own Google Doc. I've included a link to my own Google Doc content template at the end of this post.
2. Link from it to your favorite resources.
If you're like me, you're always referring to online tools while you write. I'm looking up keyphrases (Google Keyword Tool), finding possible experts to contribute or share with (FilterTweeps), or researching possible host blogs to pitch to (Open Site Explorer). It's fast to get to these when you have links in the template.
3. Link to it from your other planning tools.
Since your draft articles are now online, you can link to them easily from your content calendar or other internal tools. Keep a Google Docs spreadsheet of all the articles you're working on with links to each.
4. Collaborate with your editor, graphics person or other contributors.
Sharing a Google Doc is easy. No sending attachments. No wondering if you're looking at the latest version.


Just click the blue "Share" button, decide if they can edit or just view, and Google will send them a link.
Put your own standards for length, tone and topics into the template, so when you share it with possible guest bloggers, they'll see your guest blogger guidelines right there in the template.
5. Plan your promotion in advance.
It's smart to think ahead about who you'll share it with, how you'll tweet it, what keyphrases you'll target, and what the email subject line will be before you write something. When the template includes these aspects, it's impossible to write without promotion in mind.
6. Access it quickly from anywhere. My template is called "Content Template – MASTER" and since I access it so often, I just need to start typing "œmaster" into my address bar and the doc shows up.


No need to wait for Word to open. It's as easy as Evernote. But remember to make a copy of it before you start! Otherwise, you'll overwrite your template.
Feel free to use the shared version of my own Google Doc content template. Just make a copy, and adapt it for your own content marketing. If you have questions about this template or Google Docs in general, let us know with a comment below!
Author's Bio: Andy Crestodina is the Strategic Director of Orbit Media, a web design and ecommerce firm in Chicago, where writes about content marketing for the Orbit blog. You can find Andy on Google+ and Twitter.