The Book List: a weekly series by Teresa Morrow
I'm Teresa Morrow, Founder of Key Business Partners, LLC and I work with authors & writers to help them with their online book promotion and marketing. As part of my job I read a lot of books (I love to read anyway!).
The books in The Book List series will cover a range of topics such as social media, product development, marketing, blogging, business, organization, career building, finance, networking, writing, self development, and inspiration.
'Built to Sell' by John Warrillow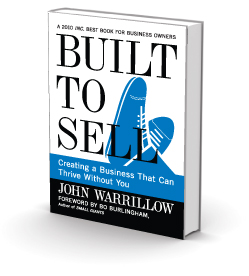 "John does a masterful job in Built to Sell of illuminating the qualities that business buyers look for in a company, and he does it in a thoroughly enjoyable and engaging manner."
—Bo Burlingham, author of Small Giants from the foreword
Covering every important aspect of the process, from attracting multiple bidders to getting the most for your business, this book easily explains what you must know and do if you want to create a business you can sell. "
—Steve Strauss, USA Today
Here are a few of the tips I enjoyed while reading this book and my take on the tip:

One of my favorite tips in the book is #5 – Avoid the Cash Suck. Once you've standardized your service, charge up front or use progress billing to create a positive cash flow cycle.
—>(Teresa's Take) I think this is really good advice because as Warrillow illustrates in the parable with Alex's business, many businesses have services offered and then choose to wait 30-60 days to get paid. Smart idea to create a way to build in a up front payable product or at least evaluate the payment options for clients and possible develop a billable option where there is money coming in up front and then billed on a monthly basis to produce the positive cash flow.
#6 also caught my eye- Don't be afraid to say no to projects. Prove that you're serious about specialization by turning down work that falls outside your area of expertise.
—>(Teresa's Take) This reminds me of the message—Turn on your strengths and turn over your weaknesses. It will probably take you twice as long to do a project and the quality of the project may suffer, however, if you choose to focus on projects where you highlight your strengths, you shine and so does the project (and this will most likely lead to more referral business!).
About the Book*:
If you're like most business owners, you started a company because you thought it would give you freedom—to do what you want, work on your own schedule, make the kind of money you deserve and eventually retire on the fruits of your labor.
Unfortunately, according to John Warrillow, most owners find that stepping out of the picture is extremely difficult because they've built a business that relies too heavily on their personal involvement. Without them, their company—no matter how big or profitable—is essentially worthless.
Luckily, there are steps you can take—no matter what stage your business is in—to create a valuable, sellable company that can grow and thrive without you.
To illustrate this, Warrillow introduces us to a fictional business owner named Alex, who is struggling to sell his company. No one bites because the business can't run without him. For guidance, Alex turns to Ted, an entrepreneur and old family friend, who lays out an easy-to-follow plan that enables Alex to transform his business. The key is making sure that every product or service meets three criteria:
* Teachable: A built-to-sell business offers products and services that you can teach employees to do, or program technology to deliver, while you sleep
* Valuable: A built-to-sell business avoids price wars by specializing in doing one thing better than anyone else
* Repeatable: A built-to-sell business creates a stream of recurring revenue where customers have to re-purchase often
Like Alex, readers can apply these powerful strategies to realize their entrepreneurial dreams.
About John*:
Professionally, I'm a writer, speaker, entrepreneur and angel investor.
My goal with my writing is to help business owners build valuable—sellable—companies. Part of the reason I write is ego gratification—I like getting your emails and tweets; the other part is needing to feel that I'm making a contribution in some small way.
I've started four companies, the most recent of which was a research business I tried to sell in 2004 only to be told by an expert that it was too dependent on me personally. Learning that my business was unsellable was frustrating. First I denied it. Then I got angry. Finally, I set about remodeling the business into one that could thrive without me. After lots of trial and error, it started to take off, and we were acquired in 2008 by a publicly traded company. I learned a lot in those four years, and those lessons became the inspiration to start this blog.
I think the world needs more entrepreneurs. If I had to rely on anyone to get me off the side of a mountain, I'd want a creative, tenacious and tough-minded entrepreneur beside me. When I vote, I prefer candidates who have started a business. I believe entrepreneurs will be the ones to solve our biggest problems and bring the developing world the quality of life that Westerners enjoy, which is why I've created a team of Built to Sell readers who lend money to entrepreneurs in the developing world through an organization called Kiva.
Most of the year, I live with my wife and kids in a town called Aix-en-Provence in southern France, where the climate enables year-round cycling and running, which is important to me because one day I'd like to qualify for the Ironman World Championship in Kona, Hawaii. Until then, I will have to settle with being a middle-of-the-pack age-grouper in the few races I do each year.
You can pre order a copy of 'Built to Sell' online at Built to Sell Website. *this information came from Amazon.
Next, I would like to introduce you to a book on the business book list on Amazon and on my reading list: 'The Millionaire Messenger'.
'The Millionaire Messenger by Brendon Burchard
This book came out recently on the new releases (business) list on Amazon.
"The expert industry has been shrouded in myth and mystery for far too long. Now Brendon Burchard, one of our most innovative and powerful leaders, reveals exactly how we—authors, speakers, coaches, consultants, seminar leaders and online information marketers–make a difference and earn an income with our advice and expertise. This is an industry defined by how much value we add to others' lives, and this book delivers and shows exactly why Brendon is one of the best." –Jack Canfield, New York Times best-selling author of The Success Principles and originator of the Chicken Soup for the Soul(R) series
"If you've ever dreamed of building a career and business around your advice, expertise and knowledge, then you'll love this book." –David Bach, #1 New York Times best-selling author of The Automatic Millionaire
About the Book
In The Millionaire Messenger, Brendon Burchard pulls back the curtains on the once-secretive "expert industry" and shows how to become an influential and highly paid advice expert through websites, books, speeches, seminars, coaching, consulting, and online programs. Blessed to receive life's golden ticket – a second chance – after surviving a dramatic car accident, Burchard has dedicated his life to helping others find their voice, live more fully, and follow their dreams. By following his 10-step program, average, ordinary people can learn to package their struggles, successes, research, or life's story into advice for others and become experts on any given topic. In the industry of people who share their advice and knowledge with the world and get paid for it, Burchard is the "guru's guru."
If you've ever wondered how the gurus spread their message, serve others, and build a real business, then this is a must-read.
About Brendon*:
Brendon Burchard is the founder of Experts Academy and the #1 New York Times and #1 USA Today bestselling author of The Millionaire Messenger. He is also author of Life's Golden Ticket and one of the top business and motivational trainers in the world. His famous training events and videos, listed at the bottom of this page, inspire millions of people to start anew, find their voice, live more fully, and make a greater difference in the world.
Brendon was blessed to receive life's golden ticket –a second chance– after surviving a car accident in a developing country. Since then, he has dedicated his life to helping individuals, teams, and organizations create and master change. His clients have included Accenture, Alcoa, JC Penney, eBay, Best Buy, Nordstrom, Levi's, Gateway, and Walgreens, as well as thousands of executives and entrepreneurs from around the globe who attend his speeches and seminars.
Brendon's new public television special "Experts Academy with Brendon Burchard" is currently airing and inspiring millions of people to share their voice and wisdom with the world. You've also seen Brendon in SUCCESS magazine and via media appearances on ABC World News, NPR stations, Oprah and Friends, and other popular programs.
Brendon's life-changing speeches and fundraising events have been sponsored or promoted by Wachovia (now Wells Fargo), Wal-Mart, Coca-Cola, Toyota, Morgan Stanley, Sony Pictures, Washington Trust Bank and other major companies.
Brendon's books, newsletters, products, and appearances now inspire nearly 2 million people a month.
Brendon donates a portion of the proceeds from the sale of his works to Junior Achievement, Kiwanis International, and other youth and service-based nonprofits. He lives in Portland, Oregon, with his incredible wife, Denise.
*courtesy of book website and/or Amazon
You can purchase a copy of 'The Millionaire Messenger!' at Amazon.