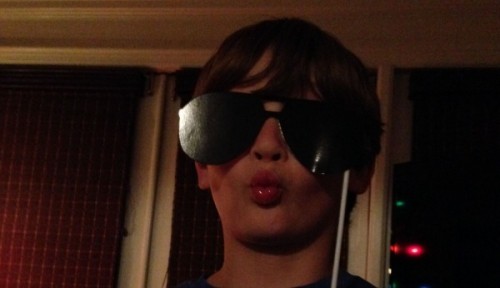 Remember your cool friend in high school who was the first to figure out how to twist up black rubber bracelets?
The 2014 version, for me, is that marketing colleague who had her new Google+ cover optimized the day after Google changed things up. Some people always seem to be one step ahead with the ninja tricks.
Here are some useful, simple tricks I've added to my marketing repertoire:
How to mention your friends by their first name only on Facebook – When you start to type the name of one of your friends, Facebook autocompletes for you. Sometimes this results in awkward sentence structure. To avoid that situation, after it autocompletes, highlight the whole name and hit delete. It will use only the first name.
How to post shareable photos on Twitter – The best way to post photos on Twitter is to use Twitter's camera icon and upload an image directly. If you share from Instagram to Twitter, it will no longer show the image inline (it shows up as a link).
How to set up your name & title in a Google Hangout – After you've joined the Hangout, click the icon on the far left that looks like a lunchbox. That will open the Hangout Toolbox, with the "Lower Third" tool, and you can then complete your Name and Title (and logo if you wish).
How to use the Rapportive Gmail plugin – If you use Gmail's web interface, you can add the Rapportive browser plugin, which shows you the photo and social feeds for people you email (particularly useful in a sales scenario, since you can often see recent posts and job title). Just go to your browser's extensions or plugins area and download it for free.
How to add a hashtag column in Hootsuite – Monitor the conversation surrounding a particular hashtag easily. In Hootsuite, click Add Stream, select a profile, and type your hashtag in the Search box. Click Add Stream, and you're good to go.
How to do a specialty Google search – You don't have to limit yourself to straight Google searches from the search box. Google's special search operators page shows how you can narrow it down.
How to add a watermark logo to your YouTube videos – Go to your Video Manager, then Channel Settings. Click InVideo Programming, and then Add Watermark. It will appear in the upper right corner, and will be clickable to subscribe to your channel!
How to annotate your Google Analytics – This is so handy to keep track of important events in your business that may have impacted your traffic. (For example, if you attend a conference or release a new product.) In your analytics, on the main page, you'll see a tiny triangle in the bottom center of the graph area. Click it to open the annotations, and click "create new annotation" to add your note.
How to make the price tag show up on Pinterest pins – If you sell products in your business, and you're using Pinterest, you should include the price in your pin descriptions. When you include a dollar sign with the price in your pin description, Pinterest will automatically add the price tag ribbon across the top left corner.
How to delete LinkedIn endorsements you don't want – Every once in a while, someone will endorse you for something you might not want appearing on your LinkedIn Profile. Click edit profile, and then click the edit icon in the Skills & Endorsements section. Click Manage Endorsements. Uncheck the box next to the endorsement(s) you wish to hide. Don't forget to click Save, and then Done Editing to retain the changes.